In November, Alo Asimov took part in The Transcontinental Comedy Show, a virtual comedy show with a lineup featuring trans comedians from across the continent. We got a chance to speak with the comic to find out more about them, their comedy style and who their influences are.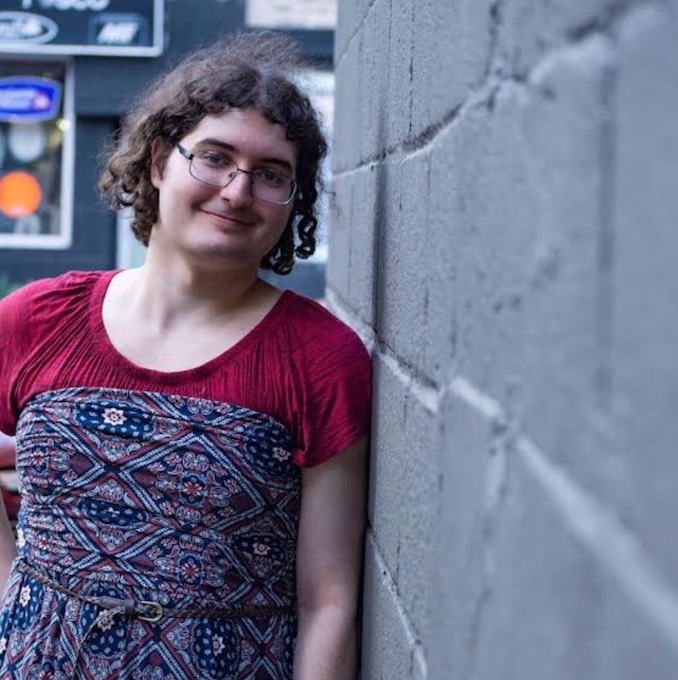 How would you describe your comedy style?
Thoughtful anecdotes and witty asides about gender identity, healing and moving on.
Who are some of your influences?
Maria Bamford, Hasan Minhaj, Myq Kaplan, and DeAnne Smith
Who was your favourite comedian growing up?
I will give two answers: Chris Rock and Sarah Silverman.
Who is your favourite comedian now?
Tranna Wintour
What is your pre-show ritual?
I change my pre-show ritual a lot. I do whatever keeps me present and in the moment. Sometimes that is testing myself, so I remember my punchlines. Other times it's listening to upbeat music. I used to talk to everyone in the audience and introduce myself, earlier on. It just helped me feel less stage fright and afraid of talking on stage to the audience. I still do that a little bit.
What is your favourite place you have performed? Why?
The Diving Bell Social Club and Theatre Ste. Catherine are two places I really feel comfortable in like I belong there. I love performing there and going to see shows there as well. The community there is very welcoming. It's important to find spaces where you feel you can just be yourself, and I've met so many cool people at both venues. I also don't have to explain my gender identity a lot, when I perform at both these venues generally.
What is your favourite medium for listening or finding new comics/comedians?
I like live comedy shows that create space for comedians of different backgrounds to exist as themselves. Where comedians take up space as their culture, gender or identity for example. I find these are great spaces to meet new comics/comedians. I especially like to go to comedy show such Queer Comedy All Stars run by Lucy Gervais, Battle Of Wits run by Elspeth Wright, They Go Low We Go Laugh run by Sara Meleika, Pornomedy by Monica Hamburg and shows run by Abby Stonehouse.
Do you have anything to promote right now?
I run a radio show on the third Thursday of every month at noon on n10.as radio called Achievement Unlocked at www.n10.as. I also will be running Tales of Gender Affirmation in the spring at The Diving Bell Social Club.
Where can we follow you?
Facebook | Instagram | Twitter
Tell us a joke.
I went to the dentist today. I got 2 years of plaque removed. My teeth feel lighter.