We're SPRLUA, a Montréal-based music collaboration between Maputo-born producer-singer-songwriter Samito and Haig V (produced Glee by Bran Van 3000, Mentalité Moune Morne by Muzion). The project takes its name from the Portuguese 'Superlua de Sangue de Lobo' (or Super Blood Wolf Moon in English), a rare lunar eclipse that takes place in the middle of winter, symbolizing the meeting between us. Our debut album, MAGNUM DOPUS, is a 10-song LP partly crafted as a commentary on the growing underground music movement Amapiano and is scheduled to be released on February 25th, 2022. Our inspirations are Vigro Deep, Cassius, Kebza/Maphoriza, Mahalia, among others.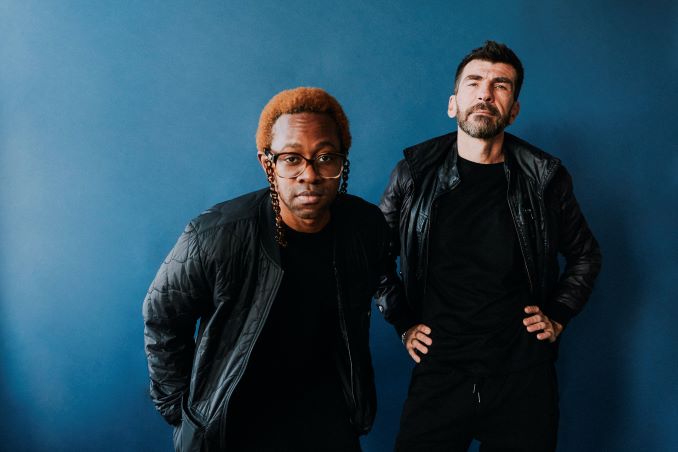 Name:
SPRLUA (pronounced soo . puh . loo . ah)
Genre:
Electronic / Amapiano / Montréal Indie
Founded:
2019
# of Albums:
1
Latest Album:
Magnum Dopus
Latest Single:
'Eboy'
Latest Video:
Favourite musician(s) growing up:
Eno, Zep, 4AD, Depeche Mode, Aznavour, Quincy, Public Enemy, Lee Perry, Marley, Fela
Gilberto Gil, Fine Young Cannibals, Talvin Singh, Alexandre Langa, Imogen Heap, Wu-Tang Clan
Favourite musician now:
Serpentwiththefeet, Sudan Archives, Semi Tee, Frank Ocean, Amaarae, Damso, Virgil Abloh
Focalistic, Beck, Damien Marley, Avalanches, Sleaford Mods, Jidenna, Vigro Deep, Kebza/Maphoriza
Guilty pleasure song:
Stormzy – Own It / Kanye – Life Of The Party (with André 3000)
Live show ritual:
Quiet time, Meditation – Quiet, vocalizing
Favourite local musician:
Thanya Iyer – Shane Murphy.
EP or LP?
Depends on the story and the storyteller.
Early bird or night owl?
Late nights into the morning, when the airwaves are uncluttered. Also, enjoy waking early to take advantage of first light and to gain a different perspective.
Road or studio?
The road and its adventures are always fun. Studio, for that feeling of constantly creating new vibes.
Any shows or albums coming up?
We'd like to promote the upcoming release of our debut album Magnum Dopus
Where can we follow you?
Instagram: @sprlua | @samitotv | @haigvmusic
***
Rapid Fire Montréal Qs
Favourite local restaurant:
Sumac in St-Henri. My favorite falafel sandwich / Pâtisserie Bela Vista, Family-run artisanal Portuguese pastry shop
Favourite street in your city:
Sherbrooke. Runs deep east/west and pretty much gives access to most of the city.
Favourite park in your city:
Rene Levesque. Its surrounded by access to the St-Lawrence river, and most days it's uncrowded and serene.
Favourite music venue in your city:
Metropolis, for its balance of venue and sound.
Favourite music store in your city:
Death of Vinyl / We used to have the Musiqaire, a vintage/ techno/oddity/thrift store off St-Denis below St-Joseph.