Musician-producers David Tanton (aka Rhoda/Tender Spring), Éloi Le Blanc-Ringuette (aka Thomas White), and Lia Kurihara (aka LIA), who also writes and sings for the group, met in Montreal and formed Afternoon Bike Ride in 2018.
Originally intended as a creative, collaborative aside to their own solo projects (collectively they've amassed 100's of millions of streams), they found the music progressing. They say "We each felt like it was a space to experiment with different sounds than we were typically used to making. As we crafted our songs, we realized that our sound progressed into a more refined and intricate version of our beginnings, letting vocals take center stage on some tracks, involving different instrumentalists, spending more time on sound design, incorporating facets of unexpected genres wherever we can.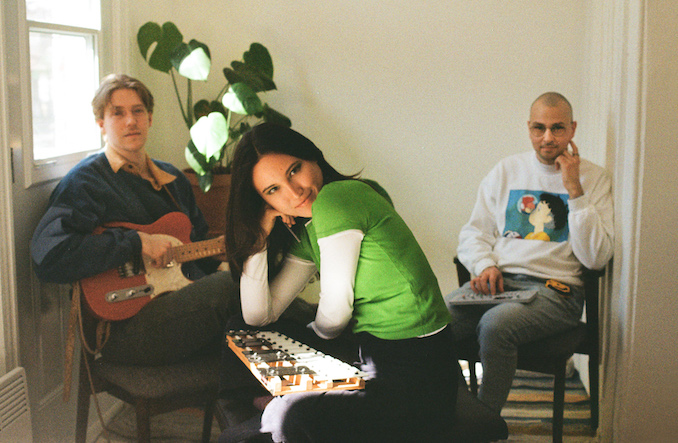 Name: Afternoon Bike Ride
Genre: Indie
Founded: 2019
# of Albums: 1
Latest Release: our self titled Album "Afternoon Bike Ride
Latest Single: It's Alright (with Imagiro)
Latest Video: It's Alright live video
Favourite musician as a teenager:
Éloi – Aphex Twin
Lia – Bon Iver
David – Radiohead
Favourite musician now:
E – Deb Never
L – TSHA
D – Vegyn
Guilty Pleasure Song:
E – "Robbers" – The 1975
L – "Crash Into Me" – Dave Matthews
D – "Slow Burn" – Kacey Musgraves
Live Show Ritual:
Always bring a towel, stretch & stay hydrated
Favourite local artist:
E – Jaques Greene
L – Ouri
D – Men I Trust
EP or LP?
E & D – LP
L – EP
Early bird or night owl?
E – Both
L – Early Bird
D – Both
Road or studio?
Stuuuudio
Any shows or albums coming up?
Our first album, released September 24th
***
Rapid Fire Qs from Montréal
Favourite local Restaurant:
E – Fleurs & Cadeaux
L – Casa Kaizen
D – Sapa
Favourite Street?
E – Wellington – I recently moved there and it's lovely! So many nice restaurants and shops and it becomes pedestrian during the summer.
L – Laurier – it's my hood and i love the evolution of the street from west to east with all the churches, markets, little shops, terrasses and street lamps… it makes for a lovely evening stroll
D – Marie-anne – "it's an easygoing street right next to my apartment that has a myriad of good hole-in-the wall cafes, restaurants & record shops. It's always a good walk or bike ride.
Favourite Park?
E – Jarry
L – Frédéric-Back Park
D – l'Île-de-la-Visitation
Favourite Music Venue?
SAT – Upstairs & downstairs both
Favourite Montréal Staple?
E – Drawn & Quarterly
L – The Mountain
D – Nantel Musique
Where can we follow you?
Bandcamp | Facebook | Twitter | Instagram