Montréal comedian Andy Assaf is our latest featured local comic. We recently caught up with him to find out more about his influences, his comedic style and where we can follow his work. If you are looking for some local comedy to support, be sure to check out one of his shows.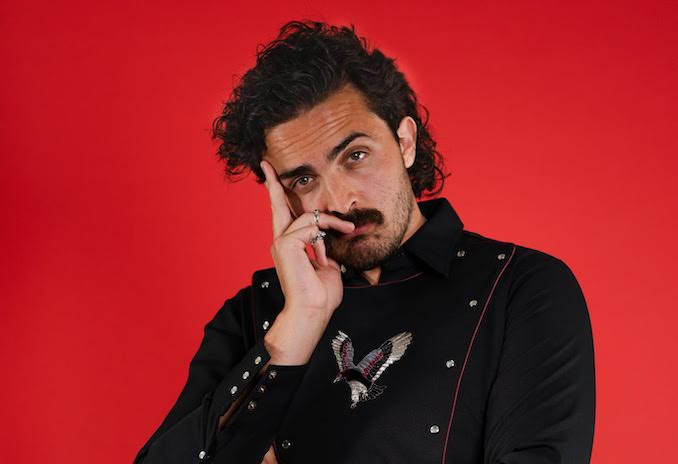 How would you describe your comedy style?
I'd probably describe my style as that feeling where you're the only one laughing at a family gathering for a joke you made that no one liked. But you're absolutely sure it was funny.
Who are some of your influences?
As far as what really got me into sketch and improv as something I wanted to do for a living , it would have to be the Nick Kroll and the Kroll Show. His Pawnsalvania sketch was a huge eye opener as to how many specific references you can get away with in a sketch and I still don't get every reference in that sketch.
Some other comedians I love:
Zach Woods
Andy Daly
Kate Berlant
Joe Pera
Eric Andre
Tim Robinson and Sam Richardson
Norm Mcdonald of course.
Who was your favourite comedian growing up?
You know, this is embarrassing, but I had this early obsession with John Pinette when I was really young, even though I probably haven't listened to his standup since I was like 10. But I was obsessed with his standup CD. For some reason I feel embarrassed about that now but I guess he is the best Seinfeld cameo so there's that.
I grew up watching Mad TV instead of SNL at an age that was WAY too young for me to be watching that show. Good neighbour made me start writing sketches when I bought a video camera in high school and what eventually led me to a life in performance now.
Who is your favourite comedian now?
I would probably say Joe Pera Talks to You is the most original comedic voice on TV today. Season 3 of that show is something I genuinely can't wait to watch.
What is your pre-show ritual?
I try to pretend like whatever show I'm about to do truly doesn't matter and remind myself good or bad I will probably forget about it in a week. I guess I've used that specific form of ephemeral nihilism as a defence mechanism my whole life, and maybe it's very unhealthy. I find it's the best way to disconnect yourself from the stakes of you being "good", which is ultimately very subjective and there are many factors that you can't control. Especially in improv, so I try to get out of my own way and it kind of let's me relax and have fun since again, none of it REALLY matters, it is comedy.
What is your favourite place you have performed? Why?
I got do understudy for MainStage at The Second City in Toronto, and when the Mercer st location was packed on a Saturday with 250, slightly boozed patrons who are there to have FUN, and you're performing a time tested good show that just blows that place up, it's truly a great feeling. But I also love when we tour in a touring company and end up in some really cool theatres around Canada with audiences that are probably way too big for an improv show. Still really cool!
What is your favourite medium for listening or finding new comics/comedians?
Probably podcasts these days. Like the very online politically left podcast world has some of the funniest people, even though they aren't even comedians in the strictest sense. Although I try not to let their edginess rub off on me too much and make me un-hireable. They have made me more politically involved.
Do you have anything to promote right now?
I've been working on a web series with my comedy partner Dimitri Kyres based on our black mirror inspired improv duo Frank Mythic. Lookout in the new year for it!
We just opened a show at The Second City called The Fast & The Furiously Festive on December 6th secondcity.com for more info.
Where can we follow you?
PAY IT FORWARD: Who is another local comic/comedian we should know about?
Montreal improviser James McGee has a live Twitch talk show that he started over the pandemic that he's still doing 3 times a week. It's called At Home With James (@athomewithjames on twitch) and sometimes I help out running the show tech and being a guest/doing bits. I would describe it as if Marc Maron hosted Comedy Bang Bang but with a specific low fi Montreal comedy scene vibe. It was a real saving grace in the depths of lockdown as a fun outlet to do characters or just mess around with friends and remind me how much I've missed live comedy.
James used to be the artistic director at the Montreal Improv Theatre where I got started myself and he basically taught me everything I know about improv and live comedy. Truly one of the funniest, hardest working people I know and I would love to see the show get the attention it deserves.
Tell us a joke.
This is a tough one, because I've actually gotten some really bad medical news recently and honestly this whole interview has been hard. Like how do you find time to think about comedy or laughter when what my doctor told me is pretty grim, and that I need to prepare myself for the worst.
Basically the doctor told me that I need to get a very serious operation. To make matters worse, when I asked for a second opinion, he said I was ugly too.