For this Montréal comedian spotlight we spoke with Elspeth Wright to find out more about her style, influences and where we can follow her work.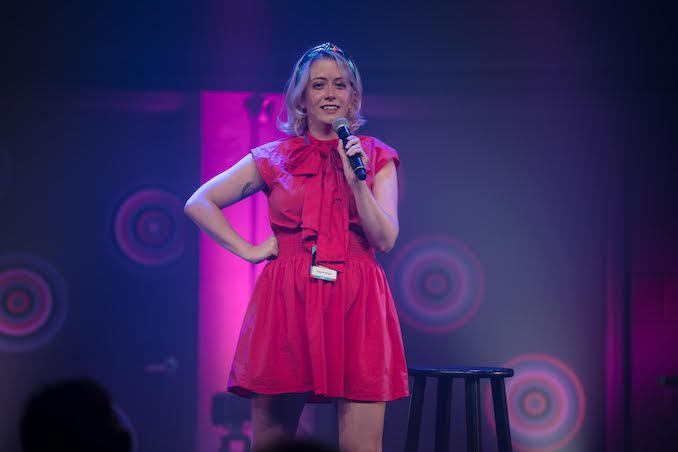 How would you describe your comedy style?
I'd describe my comedy as charmingly awkward storytelling that occasionally enters into the realm of oversharing/things I should probably keep between myself and my therapist.
Who are some of your influences?
Maria Bamford, Tig Notaro, Beth Stelling…there are a lot these are just a few.
Who was your favourite comedian growing up?
As a kid, I loved Tina Fey, Amy Poehler, and Maya Rudolph I'd have my parents tape SNL for me every week and I'd watch it religiously, I loved how hilarious these women were and how they just went completely wild with everything they did.
Who is your favourite comedian now?
I am a huge fan of Phoebe Robinson's books, standup, and just everything she does.
What is your pre-show ritual?
I have a playlist that I listen to, other than that I just pace around getting really nervous and excited.
What is your favourite place you have performed? Why?
My comedy home bases in Montreal are Diving Bell Social Club and The Comedy Nest both of which I love very much. This past summer I had the opportunity to perform at Monument-National as part of ZooFest, it was an incredible experience. I also recorded a set for an upcoming Just For Laughs Originals album at The Comedy Nest, it was nice to be able to do that project in a venue I love and feel at home in.
What is your favourite medium for listening or finding new comics/comedians?
I find a lot of new comedians through podcasts and Instagram.
Do you have anything to promote right now?
My comedy game show Battle of Wits will be celebrating its 2-year anniversary on November 11 at The Diving Bell Social Club. Tickets are available online and at the door. If you're not in Montreal you can watch the online version of the show on my YouTube page, conveniently linked below. In November the Just For Laughs Originals album I recorded a set on earlier this year will be released so keep your eyes peeled for that.
Where can we follow you?
Instagram: @Elspeth_Wright and @BattleOfWits | Twitter | YouTube
Tell us a joke.
Banning straws because they hurt turtles as if they haven't been breaking camels backs for years!
PAY IT FORWARD: Who is another local comic/comedian we should know about?
Abby Stonehouse is one of the funniest, most kind, and hardworking people in the Montreal comedy scene; I love her and so will you. Wassim El-Mounzer is an absolute superstar.