Tyler Lemco is a local comedian from Montreal who uses his curiosity with a mix of observational awareness and dumbness to generate laughs. A big fan of Weird Al Yankovic growing up he memorized his songs and MTV takeover specials. We spoke with Tyler to learn more about his influences, where he enjoys listening to and discovering new comedians, and what projects he is working on.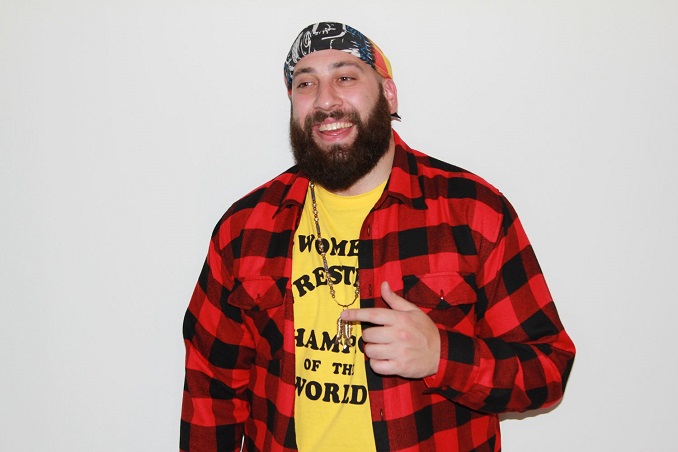 How would you describe your comedy style?
To be honest, I think I'm more curious than I am funny. I'd say I have a healthy mix of observation and dumbness, and when I'm lucky, that creates comedy.
Who are some of your influences?
In no particular order: Norm MacDonald, Weird Al Yankovic, Salvador Dali, Prince, Macho Man Randy Savage, Hunter S. Thompson, Jane Goodall, Mr. Rogers.
Who was your favourite comedian growing up?
Growing up, my guy was Weird Al Yankovic. I knew every word to his songs, and had his MTV takeover specials on VHS. To this day, that is the only "famous" person that I would genuinely be excited to meet.
Who is your favourite comedian now?
Zak Kik.
What is your pre-show ritual?
I don't really have any rituals or superstitions, but for some reason, whenever I'm walking up to a stage or about to go live, this is what's playing in my head:
What is your favourite place you have performed? Why?
I typically hate going places, so picking a favourite place is tough. I enjoy Cafe Cleopatra, though. Not only is it a really nice venue with a big stage, but it's above a strip club of the same name. If you don't know it, google an image of the sign. It's awesome.
What is your favourite bit you have written and why were you proud of it?
I wrote a bit about celebrity names, and specifically Vin Diesel's real name. I think that was like the first real "bit" I wrote, that wasn't just a set-up/punch-line joke. When I first started doing stand up, I would only do jokes. It took me about a year to start formulating actual bits. I don't do it anymore and it wasn't any good, but I can remember feelings like a real comic with that one. By the way, it's Marc Sinclair.
What is your favourite medium for listening or finding new comics/comedians?
I just had the privilege of hanging around the Just For Laughs comedy festival in Montreal a few weeks ago. That was an awesome opportunity to meet and watch a slew of awesome comics I had never heard of before. Other than that, I'm a big fan of comedy podcasts on YouTube. I'll start with a podcast that I like, until I get to an episode with a guest that I never heard of before and enjoyed, and then I'll go down a rabbit hole of that person's content. It's a good way of discovering new creators. I've been binge-watching 'Are You Garbage?' while I work this week, which was a direct result of getting into Rick Glassman's 'Take Your Shoes Off' podcast.
Tell us a joke about your city
I think it's the only place where you'll hit a pothole that turns OFF your "check engine" light.
Do you have anything to promote right now?
Oh yeah, check out A Very Serious Show on Instagram and TikTok! It's a super fun show I host, featuring a bunch of hilarious people. You may even recognize some of our guests from some other stuff!
Where can we follow you?
Website | Instagram | TikTok | Facebook
PAY IT FORWARD: Who is another local comic/comedian we should know about?
I recommend Troy Stark. Not only is he an awesome stand up who was just featured as one of Just For Laughs' Originals, but he also produces a slew of shows and really works hard for the comedy community.