Tyra Blizzard, also known as @tblizzy on Tiktok, is primarily a Tiktoker but is also an Instagram influencer and Youtuber based in Montreal. With around 874.5K followers on TikTok and a peak of 484.9K views on their videos, they bring social activism content to their audience. We had the chance to catch up with them to learn more about their content and plans for the future as content creator.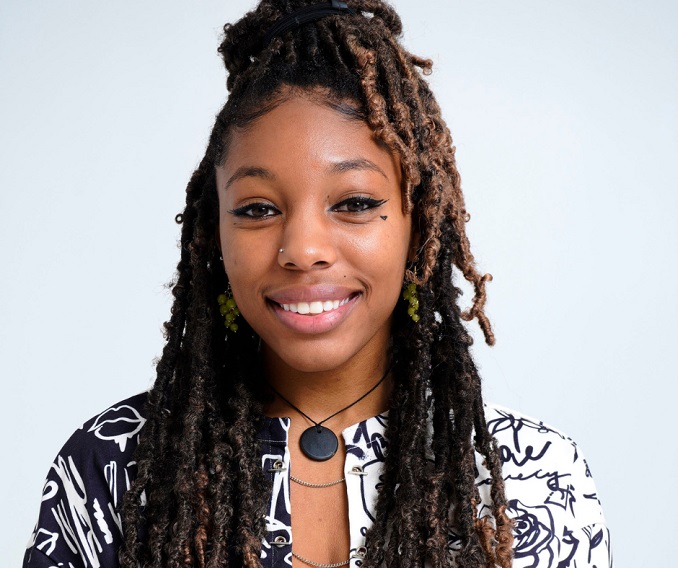 What are your content channels called and what are there about?
I am a Black Queer Social Activism Content Creator, Public Speaker, Professional Basketball Player, Small Business Owner, & Registered Kinesiologist (R. Kin, Inactive).
My main platforms are TikTok, Instagram & YouTube.
My brand slogan across all platforms is, "Change the World, One Uncomfortable Conversation at a Time".
My mission on social media is to combine my passion for social justice & health by initiating important conversations about racism, misogyny, mental/physical/spiritual/sexual health, women in sports, gender & sexuality, homophobia, transphobia, & ableism, among many other social justice issues.
On TikTok, Instagram & YouTube, I have created spaces where we can openly discuss these taboo/controversial topics.
When did you start it? What motivated you at the beginning?
I started my platform during the COVID pandemic near the end of 2020. Initially, I was searching for an outlet to express my curiosities, fascinations, & frustrations with the world. I wanted to know if other people were having open conversations about some of the things that affect me as a Black Woman (at the time I still identified as a Cisgender, Heterosexual Woman… a LOT has changed since then).
I was elated to see how many people were open to sharing their perspectives in a way that resonated with me. This is what motivated me to continue creating content.
Who were you inspired by? Any influences?
I didn't know much about TikTok back when I first started, so I wasn't following many people. I was initially posting for myself for the first few months. I wasn't getting many views, so my content was mostly for me & my close friends. I was essentially using it as a journal until my account started suddenly gaining traction.
How would you describe your audience?
The "content creator" answer to this question is approximately 85% female, 15% male (unfortunately, TikTok lists audience "gender" in this way), between the ages of 18-25, & 25-55; in the United States, Canada, United Kingdom, Australia & Germany mostly.
My personal feelings however are much deeper than that. I feel as though my audience is mostly composed of people who are; curious, absolutely in love with learning, people who question everything & who are always willing to hear, analyze and discuss new perspectives.
What is your creative process? Do you have people who work with you?
My creative process is constantly changing and evolving. I typically film a video when I have been ruminating on a topic & desperately need to let it out (again, like a journal). My special interest is in the field of sociology so, I am continually questioning everything in my offline & online environments.
I also work with an incredible manager who has helped me immensely with navigating the logistics/business side of content creation. Once I decided to commit to TikTok as my main job, I began planning & scheduling content in a way that helps me remain consistent & mentally engaged (despite the discrimination, hate, trolls, threats & overall difficulties of working in Social Media as a Black Queer Femme).
How do you monetize your content? Do you also have another job?
I work with & create content for different companies/organizations (example: nonprofit organizations such as The Canadian Foundation for AIDS Research, It Gets Better Canada, mobile apps such as Bumble & Lex, as well as product-based companies).
As a Canadian creator, it is difficult to monetize my platform because I do not have access to a Creator Fund on TikTok. This means I cannot make any money for the views & engagement I get from the content I post. Online content creation is my sole source of income at the moment so, I have to work to secure contracts with brands & organizations. It is stressful at times, not knowing if I will get a contracted opportunity each month. However, I believe in my mission & I will continue to pour my energy into what I love doing.
I started an online petition to encourage TikTok to introduce the Creator Fund to Canada because Canadian creators deserve to monetize their platforms in the same ways that American content creators are able to. This petition currently has almost 13,000 signatures: https://www.change.org/p/tiktok-make-the-tiktok-creator-fund-available-to-canadian-creators.
I also started two small businesses: Controversial Apparel & TBlizzy Introspective Consulting. I started my apparel brand back in 2020. I felt frustrated that it is considered "taboo" to discuss our thoughts, feelings & opinions on important social, political and economic justice issues. To help combat the reluctance we feel to express ourselves due to the judgment we often receive, I created unique clothing designs that can influence uncomfortable, but important conversations. If we can wear our feelings proudly on our chests, we can become more consistent in advocating & fighting for them.
TBlizzy Introspective Consulting is a service I created to answer all of the questions I receive from having large-scale discussions about highly complex and nuanced topics. My email & DMs are often packed with messages from allies & community members who are seeking guidance along their introspective journeys related to race, gender, sexuality and more. With my consulting services, people can have their questions answered directly, during a live one-on-one session with me.
Offline, I work as a professional basketball player however I am injured at the moment, awaiting surgery in March. I am currently working as an apprentice assistant coach for the Concordia University Women's Basketball team. I also work as a Youth Consultant for Rising from our Roots, which is a grassroots organization committed to anti-oppression, harm reduction & distributing resources to youth here in Montreal.
What is your favourite piece of content you have created? 
What is the best part about what you do? What is the worst part?
The absolute best part of content creation is connecting with the online community that I have cultivated. Online community IS real community & it has given an opportunity for so many of us to feel heard, supported & understood. Especially for those who don't always feel a sense of community & support in their day to day lives outside of social media.
I love that we are able to share ideas & help each other develop as individuals. It warms my heart to receive messages about how I have inspired other people to question so many things about themselves (gender, sexuality, internalized racism, misogyny, ableism, the list goes on). Many people have told me that my videos helped them realize that they were bisexual, pansexual, lesbian, gay, &/or trans. I have also had many opportunities to speak at highschools & universities about racism & how different systems of oppression influence our behaviors, perceptions & beliefs. These are the aspects of online content creation that make it possible for me to fight through the difficulties & continue my online journey.
In terms of the hardest part of being a content creator who discusses taboo topics, you would think it would be the racist, homophonic, misogynistic messages, wrongful video & account reports/bans, death threats, & overall hateful comments/videos.
However, I feel as though the most difficult aspect of being a content creator is not being able to control how other people perceive you. Sharing your truest feelings & opinions online is extremely vulnerable. It completely exposes you to the world & allows others to perceive you however they'd like. Oftentimes, people will watch a few of my 1-3 minute long videos & feel as though they have gathered an accurate idea of who I am as a person entirely. I feel as though this can sometimes affect my ability to create connections because it influences people to develop expectations. I could meet someone on the street who doesn't like me & has no interest in getting to know me, solely because they may not have agreed with a few of my videos. I could also meet someone who loves my content & expects me to always be bubbly or energetic in person (when I may be overstimulated & socially drained that particular day).
Sometimes, I feel as though people may not always see or understand that content creation is my job. I may not check my text messages or DMs for a week, but I will have posted multiple times on TikTok & Instagram. It doesn't mean I am ignoring anyone intentionally. Usually, it means I am overwhelmed, trying to keep up with my work schedule while also going through my own personal life struggles.
What are your future plans for your channel?
I plan to expand my platform this year by introducing new content series (such as my new makeup series titled, "Girl, It's Just Eyeliner"). I also plan to share even more vulnerable sides of myself to my audience & dive even deeper into the topics of gender, sexuality, race, sexual health, & deconstructing societal norms.
My main objective is to continue to lean into my mission: "Change the World, One Uncomfortable Conversation at a Time".
Also, I just published my first journal called The Gender/Sexuality Journal: it is a prompt journal that guides people through the process of exploring their gender & sexuality. You can find it here.
Where can we follow you?
PAY IT FORWARD: What is another Canadian content creator that you love?
I absolutely LOVE @curlykeish who educates about Black Canadian History & shares the information we are not taught in school.