Queens, NYC-born singer/songwriter and self-taught multi-instrumentalist emerged as BOZOBABY in 2020 in Montreal. BOZOBABY serves as the artist's creative outlet and intimately personal musical portfolio.
The artist took to the bedroom studio with a guitar won from a middle school songwriting competition, a second-hand microphone, and GarageBand to produce BOZOBABY's first single, "Inside my Sheets" (2020). This was followed by a similarly produced style track, "New Pain" (2020). BOZOBABY introduced the first additional musician in a song in their release of "Darling" (2022) with a bass line by Julia Hill. This collaboration marked the start of a sonar transformation for the portfolio from a solo act to a band composition. The release of the artist's latest single, "My Job" (2022), exhibited the dynamic and multifaceted nature of the BOZOBABY sound. In addition to Hill's low-end contributions, BOZOBABY's band is composed of Jacob Tarasofsky on the keys/synth, Jacob Lopez on lead guitar, and Jack Moore on drums.
Their compositions reflect both the onerous and joyful experience of navigating life as a young trans/nonbinary Filipinx individual. They intend to express both the serious with the silly in this journey having no clear idea where they're headed but holding the optimism to find out.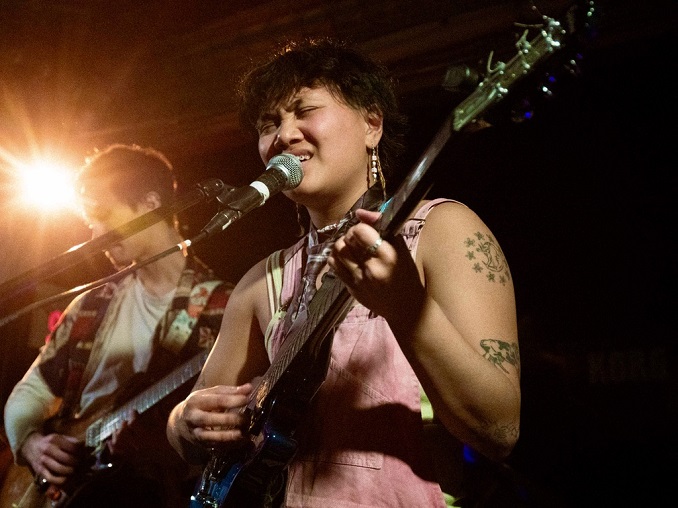 Name:
BOZOBABY
Genre:
Alt-Indie Pop, Indie Soul, Bedroom Pop
Founded:
2020
Latest Single:
My Job
Latest Video:
Favourite musician growing up:
Amy Winehouse
Favourite musicians now:
Nick Hakim, Orion Sun, Alex G
Guilty pleasure song:
Turn Me on – Kevin Little
Live show ritual:
The band's before-show ritual is guttural screaming and big hugs 🙂
Favourite local musicians:
Whoredrobe, Georgie, Arwen, Debbie Christ, Fresh Wax
EP or LP?
EP
Early bird or night owl?
I want to believe I'm an early bird but I end up living the night owl kind of life.
Road or studio?
I love studio recording and constructing pieces. I give myself a lot of independent time to create music alone too.
Any shows or albums coming up?
May 27 at the Stackt Market in Toronto.
Where can we follow you?
***
Rapid Fire Montréal Qs
What is your favourite local restaurant?
Pho Bang New York
What is your favourite street in your city and why?
Rue Drolet because it's cute and pretty
What is your favourite park in your city and why?
Parc Sainte-Marie play fountains because there are trampolines and I love to bounce
What is your favourite music venue in your city?
Casa Del Popolo
What is your favourite music store in your city?
La fin du vinyle/Death of Vinyl