SOMBRA is "music to turn the lights off to". Matthew Cataldo — the Montreal-based producer/songwriter/multi-instrumentalist behind SOMBRA – usually writes alone, in the middle of the night and in a dark room. But, for music created in the shadows, Matthew has found a signature sound with a surprisingly colourful quality. Chameleonic, and bordering the lines between alternative, synth-wave, industrial-pop, and indie-rock, SOMBRA's sound remains indefinable and difficult to categorize. Glistening synth sounds meet distorted vocal licks; massive bass grooves dance atop hypnotic drum beats that blend seamlessly with metal-infused riffs. The result is a collection of haunting yet familiar soundscapes.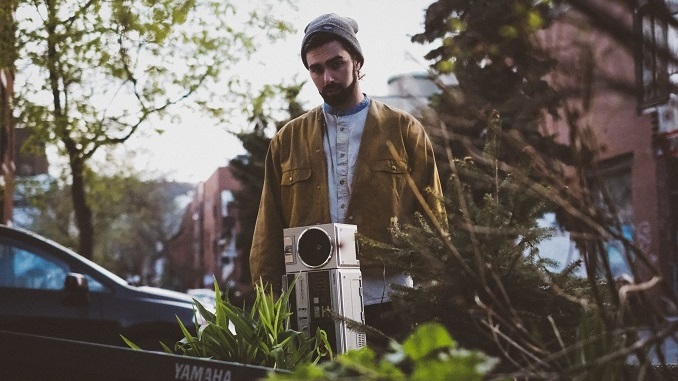 Name:
Matthew Cataldo (SOMBRA)
Genre:
Alternative / Electronic
Founded:
March of 2018
# of Albums:
1 album: Free From Interruption (2020)
1 EP: Sombra (2018)
And a few singles
Latest Album:
Free From Interruption
Latest Single:
PYRAMIDES
Latest Video: 
Favourite musician growing up:
Trent Reznor. I resonate so much with his writing process. Putting so much passion and anger into music and hearing the distorted result is my therapy. I learned that from watching and listening to Nine Inch Nails. Not just NIN but everything Reznor puts his hands on – from his work on films to his production on the latest Halsey album, I'm constantly mind blown and entranced by his work. I think it really helped me in my teenage years too. I've struggled with mental health throughout my life, and his music constantly proved to me that I could find a release doing something I loved.
Favourite musician now:
Hard to give you just one name here. I've been obsessed with James Blake since an old band member showed me his music. His voice and his ability to blend hip-hop and bleed between genre is such an inspiration. I like not fitting in a box. I'm always asked what genre SOMBRA is and I always struggle to answer this. It's because my inspirations are constantly moving around and I really think James Blake's music has been a huge part of that for me. Similarly, Damon Albarn has always had this effect on me. I've always loved Gorillaz, and he constantly pushes the border, and experiments with all kinds of collaborators and stuff. I absolutely love that idea. Not to mention, I keep hearing people compare my voice to his – which is a compliment I'll take. Haha
An honourable mention for me would be this little know project from Kobe, Japan I love called The Fin. The main songwriter/producer's name is Yuto Uchino, and his music has been a huge influence on me recently. It sounds something like a chiller, more electronic Tame Impala and honestly, they deserve to be way more well-known. If you're interested check out the album "There" from 2018 and tell them SOMBRA sent you haha!
Guilty pleasure song:
Not going to be unique with this one, but probably anything by Billie Eilish.
Live show ritual:
Super zen morning. Sleep in + work out/yoga + vocal warm-ups + realize in sound check I forgot something and have to go back to my studio to pick it up haha.
Favourite local musician:
Got introduced recently to Jesse Mac Cormack and I've been in awe at the sounds he's been making. Can't believe I only heard of him now. I see a lot of myself in his songwriting. It's definitely a little more minimalist and chill. The tender would be a good word to describe it with. But there's this discomfort in his music that makes you really get in your head. And that's where I spend a lot of my time. Would love to collab with him someday!
EP or LP?
EP – While I love albums, definitely focusing on the shorter form compilations now.
Early bird or night owl?
I go through phases. I'm somewhere in the middle at the moment, but when I'm in the middle of songwriting, I am an extreme night owl. Staying up in the studio till 4 am was just a natural process for me. I'm currently transitioning to working on the live set, so definitely spend less time up late. My body is thanking me haha.
Road or studio?
Hmm. Both? For me, the studio comes after a long time on the road. I've always written music in weird locations. Cafes, hotel rooms, you name it… But then it's in the studio where I develop everything past a rough demo. I appreciate the studio more when I'm not there… And when I spend weeks in the studio, I want to be on the road or travelling somewhere more than anything.
Any shows or albums coming up? 
Keep checking our socials. Will have some updates very soon!
Where can we follow you? 
Instagram | Facebook | Website | Spotify | Apple Music
***
Rapid Fire Montréal Qs
Favourite local restaurant:
Karin – It's a Japanese restaurant on the west side. Doesn't seem like anything special but it's authentic as it gets.
Favourite street in your city:
Rachel. It's close to all the nicest parks. Great for biking around and it's got great restaurants.
Favourite park in your city:
Park Jeanne-Mance and La Fontaine are the easy answers. But I also really love Girouard park as someone who lives in NDG (west side of Montreal). It's got all kinds of little festivals throughout the year and it's just a good place to bring an instrument and jam.
Favourite music venue in your city:
Casa del Popolo holds a special place in my heart because, in a way, it was my introduction to playing live music. It's also the first place I played live as SOMBRA.
Favourite music store in your city:
Shout out to Audiomanie in the east end. The only place I'll bring all my instruments for fixes. They know their stuff.