Nicholas Cangiano is a Montreal-based multi-instrumentalist whose eclectic sound pulls you into his colourful world as a self-made musician. Where anything goes, where the peculiar is encouraged, and where you're enticed to let down your walls and come as you are. Cangiano uses his savvy for several instruments; most notably guitar, bass, and keys to blending influences of classic funk and soul with modern pop and rock together into fresh, infectious productions that will have you coming back for more.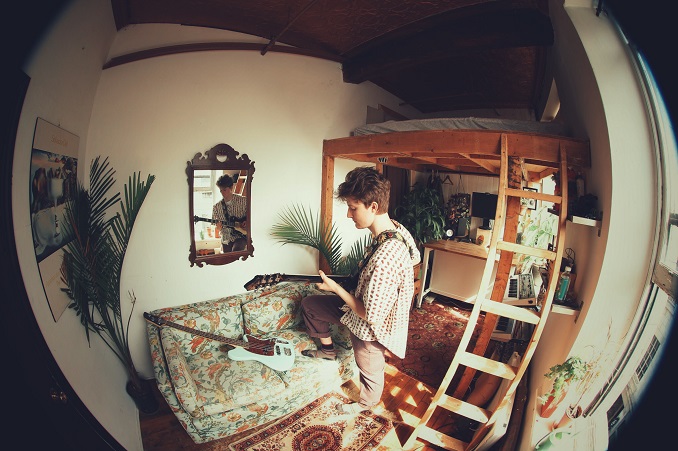 Name:
Nicholas Cangiano
Genre:
New Soul, Alternative Pop
Founded:
2016
# of Albums:
2 Albums, 3 EPs
Latest Album:
New Occasion EP released October 13th via Favourite Library
Latest Single:
Kaleidoscope
Latest Video: 
Favourite musician growing up:
Talking Heads
Favourite musician now:
Talking Heads, Alice Pheobe Lou, Khruangbin, or Alabama Shakes
Guilty pleasure song:
Sledgehammer, Peter Gabriel
Live show ritual:
I like eating a spicy meal before a show to clear the sinuses and wake my mind up, also I just love spicy food.
Favourite local musician:
Les Louanges
EP or LP?
An LP that flows well will always be the best for me
Early bird or night owl?
Early bird, all my best music was made in the morning
Road or studio?
Love the space to create that the comfort of a home studio provides
Any shows or albums coming up?
I have an EP that came out in October entitled 'New Occasion', 6 of my best songs out of hundreds of ideas I've made over the past year. I'm confident it's my best work yet and think people will really love it. After that people can expect tons of new music and collaborations coming all through 2023.
Where can we follow you?
You can follow me on Instagram, and find my music on all platforms as 'Nicholas Cangiano'.
***
Rapid Fire Montréal Qs
Favourite local restaurant:
Chez Anna on Duluth
Favourite street in your city:
Duluth, has a very natural feel to it, lots of amazing restaurants, unique apartments, a slow pace, great street to wander along.
Favourite park in your city:
St. Louis Square was one of the first places I ended up walking through when I first visited Montreal before moving here, it will always have a really magical feeling for me.
Favourite music venue in your city:
La Sala Rossa
Favourite music store in your city:
La Rama Records