Shades Lawrence is a Montreal-born, queer, mixed-race hip hop artist of British, Jamaican, Irish and Scottish heritage. A pure lyricist, Shades Lawrence's style can be described as alternative hip hop. Her words uplift, while keeping environmental justice at the forefront. You can connect with Shades Lawrence and her music at shadeslawrence.com or on social media channels as Shades Lawrence.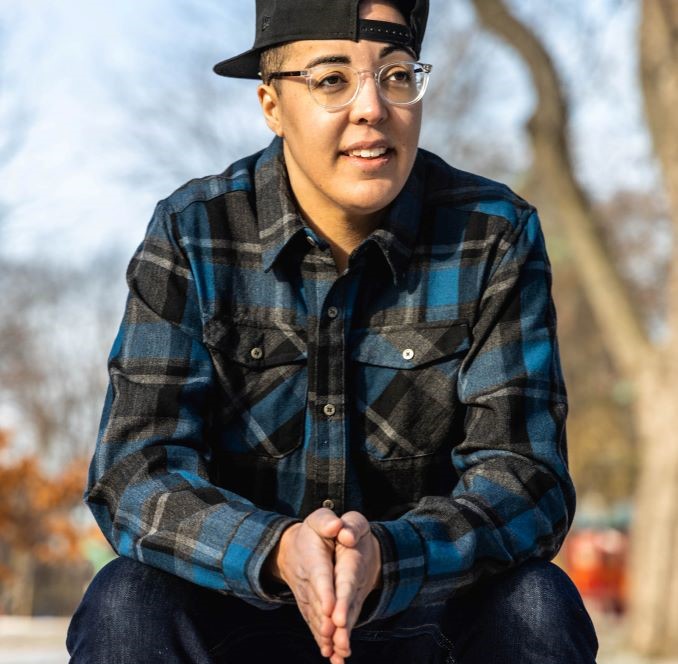 Name:
Shades Lawrence
Genre:
Hip Hop/Rap (Alternative Hip Hop)
Founded:
2017
# of Albums:
3; Trust Takes Time (2022), 4th Quarter (2021), East West Road (2020)
Latest Album:
Trust Takes Time
Latest Single:
"Peace," an anti-war song, and a political song. "Peace," directly names the Russian government's invasion of the Ukraine, and urges the world community to try harder to negotiate for peace.
Latest Video:
Favourite musician growing up:
Ms. Lauryn Hill, Sweet Honey in the Rock, Etta James and Aretha Franklin
Favourite musician now:
Me – Shades Lawrence
Guilty pleasure song:
"You're All I Need to Get By" – by Aretha Franklin. It's lovey dovey and romantic, that's why I would normally stray away from mentioning this gem by the Queen of Soul.
Live show ritual:
Maxing and relaxing pre-show.
Favourite local musician:
Janette King, Sarah MK, Salin, Backxwash
EP or LP?
LP
Early bird or night owl?
Both.
Road or studio?
Hard to choose on this one. I'd say, either recording songs on environmental justice, peace, and social justice, or performing them.
Any shows or albums coming up?
For upcoming shows, keep an eye on my website and/or sign up for my mailing list. A few shows are in the works, but none announced yet. For new music, releases will be steady, so stay up on my social media to keep track of new releases. New music includes music on the subject of environmental justice, peace, social justice, and a few love songs most certainly.
Where can we follow you?
Facebook | Instagram | Twitter | TikTok
***
Rapid Fire Montréal Qs
Favourite local restaurant:
Jean's Trinidadian Restaurant, the best cuisine !
Favourite street in your city:
Boulevard St. Laurent, there are still things to do and new places to discover.
Favourite park in your city:
NDG Park (Parc Girouard), it's in my neighbourhood.
Favourite music venue in your city:
Diving Bell Social Club.
Favourite music store in your city:
Red One Music.