Veronna is a Canadian singer-songwriter and a graduate from Saint-Laurent College in Jazz/Pop Singing (2011-2014) even though she's been classically trained when she was a child and a teenager (piano, guitar and opera). After graduating in jazz singing, she began touring around the world for several music groups (AlterEgo, Akasha, Solid Hits, Sugar Cake, Formidables) singing pop, r&b and rock music. After more than 300 shows singing other people's songs from 2014 to 2017, she made her solo debut with her first album "In The Unknown" launched in December 2018.
Memorable melodies, a nuanced and powerful voice, deep lyrics, majestic musical arrangements, amazing stage presence and great visuals; that's what makes Veronna a stand out on stage. It is at Tangerine Studio in Montreal Veronna developed her sound with producer William Gaboury (Fuso, Simon Morin, Andy St-Louis).
In August 2017, Veronna released her first single "Queen", her female empowerment anthem. The song is noticed on release and Veronna is called to perform it at the Rimouski International Jazz Festival as a duo with the renowned pianist Rafael Zaldivar. During the summer of 2018, she is the special guest on the show "Women Of Rock" and shares the stage with Quebec rock icons Marjo and France d'Amour, while performing with her own band in venues all around Quebec.
Since the pandemic dragged down promotion of the album and the tour that was supposed to happen in 2020, Veronna has turned to LiveStream to reach her audiences and has also composed many songs that she unveils during her virtual concerts. She still managed to release one single in September 2021, a French song called "On a oublié", which is the French version of her song "Homeland", where she talks about climate changes and how we forgot to take care of our planet. She was back on stage in Montreal, on November 26th, 2021 for a solo concert.
In 2022, Veronna decided to release one single every month. "The Start of Something New" was out on January 14th, then "Your Everything" on February 11th. Her next single "Give It A Shot" is coming out on March 11th.
She's also going back on stage on March 19th at La Cale – pub zéro déchet on Plaza St-Hubert, then at L'Orbite on May 6th and at La Marche à côté on May 29th. More dates are coming soon. The tickets are for sale on her website: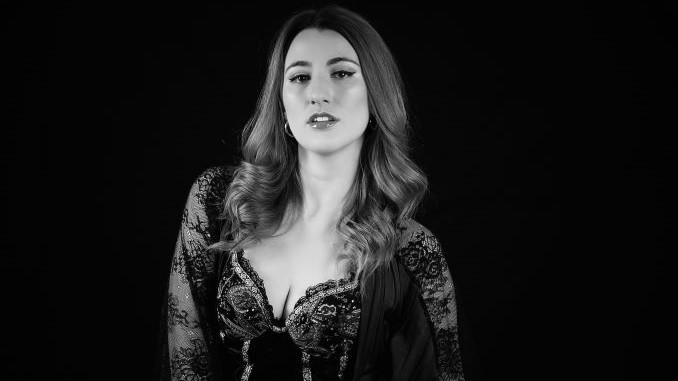 Name:
Veronna
Genre:
Pop
Founded:
2017
# of Albums:
1 EP ("Acoustic Sounds Vol.1"), 1 album ("In The Unknown")
Latest Album:
In The Unknown
Latest Single: 
"Give It A Shot" (March 11th, 2022)
Latest Video:
Favourite musician growing up:
Freddy Mercury from the band Queen
Favourite musician now:
Florence + The Machine
Guilty pleasure song:
"Gimme Gimme" by Abba
Live show ritual:
Warming up my voice for about 30 minutes and then doing my hair and makeup listening to music, alone. No talking, just being in my bubble.
Favourite local musician:
I absolutely love the band Clay and friends. We're from the same neighbourhood (Verdun)!
EP or LP?
I love the EP format. It's not too long to create so it allows us, musicians, to release more often. Also, I feel artists sometimes put "filler" songs on long albums. On an EP, every song has to be awesome.
Early bird or night owl?
Night owl!
Road or studio?
A mix of both is the best. Studio is healthier though. Lack of sleep and healthy food is a real problem when you're always on the road… However, performing live concerts is the greatest thing of all.
Any shows or albums coming up?
I'm working on releasing one original song every month (the second Friday of each month). My third single of 2022 came out on March 11th.
Where can we follow you? 
Instagram | YouTube | Facebook | Tiktok | Spotify | Apple Music | More links here
***
Rapid Fire Montreal Qs
Favourite local restaurant:
Kokochi Izakaya on Wellington street in Verdun
Favourite street in your city:
Sainte-Catherine Street, between Bleury and Saint-Laurent. I just love hanging out at all the festivals happening there. Lots of wonderful memories were made there and still are.
Favourite park in your city:
Parc des Rapides in LaSalle. I took so many long walks during lockdown in that park, it literally saved my mental health. It is absolutely gorgeous, you forget you're in a big city.
Favourite music venue in your city:
Metropolis (now named MTelus). I saw so many amazing concerts there! It's not too huge, just enough and the sound is pretty good.
Favourite music store in your city:
Steve's Music! Another reason why I love Sainte-Catherine street so much.