Hailing from Montreal, Luminescent was formed in 2015, driven by the desire to unite two instruments that complement each other in the most exceptional way: the harp and the handpan.
Luminescent stands apart with a sound that's as rare as it is captivating – the duo seamlessly weaves contemporary nuances of minimalism and jazz with echoes of ancient musical traditions such as râgas and gamelan. The result is a harmonious fusion of rhythmic intricacies and flowing melodies, enveloped in lush resonances that transport listeners to ethereal realms. Beyond the core harp-handpan duo, kalimba, euphone, and tongue drums add layers of texture and depth to their performances.
With their unprecedented harp and handpan collaboration, palpable synergy on stage and audacious creativity, Luminescent carves a unique path in today's musical scenery, their music evoking resonance that lingers long after the notes fade.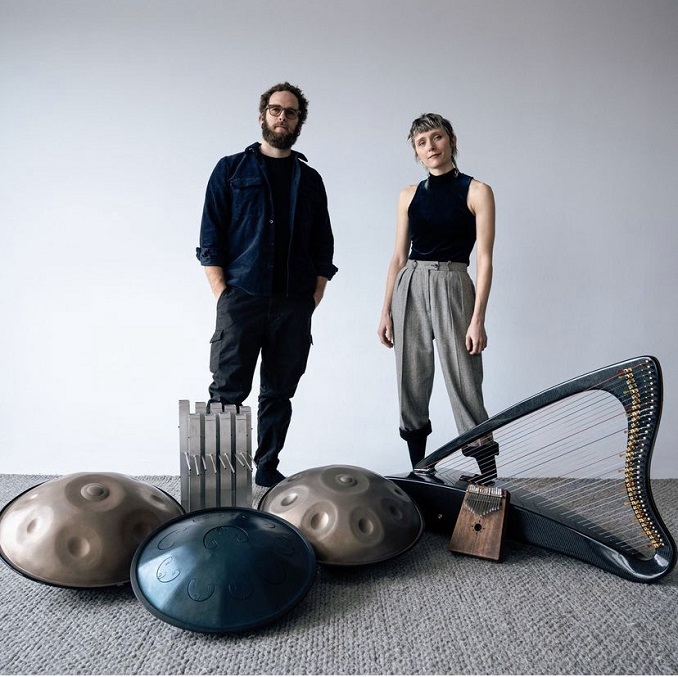 Name:
Luminescent
Genre:
Instrumental fusion, contemporary classical with jazzy colours
Founded:
2015
# of Albums:
2
Latest Album:
Abysses – released on October 5th
Latest Single:
Eau Vive – a collaboration with the amazing tabla player Saulo Olmedo Evans
Latest Video: 
Favourite musician growing up:
Dead Can Dance
Favourite musician now:
Avishai Cohen (a great inspiration for us!) and Nadishana, a Siberian virtuoso multi-instrumentalist
Live show ritual:
Telling jokes to each other backstage to lighten the atmosphere before playing 😛
Favourite local musician:
Patrick Graham
EP or LP?
LP
Early bird or night owl?
Night Owl
Road or studio?
Road
Where can we follow you?
Instagram | Facebook | Youtube | Website | Spotify | Apple Music | Bandcamp
***
Rapid Fire Local Questions:
What is your favourite local restaurant?
Le Super Qualité, a tasty Indian snack bar.
What is your favourite street in your city and why?
Mont-Royal, it's a good place for busking and meeting other musicians!
What is your favourite park in your city and why?
Parc Lafontaine because that's where we used to meet to jam and rehearse when we started Luminescent.
What is your favourite music venue in your city?
Casa del Popolo
What is your favourite music store in your city?
L'Oblique