Raised and based in Montréal, Québec, Tamara Grace is a 21-year-old Canadian singer, songwriter and musician whose songwriting and honeyed vocals soundtrack the trials and tribulations of coming of age. Inspired by acts spanning from the 1940s to the 2010s, namely Freddie Mercury, Melanie Martinez, Adele, Stromae, Lady Gaga and everyone in between, Grace's style has a haunting and delicate tone, with a pop-style familiarity and relatability. Grace grew up dealing with bullying, which later developed a tower of insecurities, anxiety and depression. She channelled her feelings into her notebook, writing diary entries and poetry that progressed into gloomy, although inviting lyrics. At the age of 15, she met music producer Michael Benjoar. Soon after, Tamara released her debut single "Teddy Bear," which reflects on one's first experience with heartbreak and rejection. She later released "Sad Boys" and "Bad Girl," both produced by Benjoar.
Towards Autumn of 2021, Grace met recording producer Dominique Messier (better known as Céline Dion's long-time drummer) and began creating golden tunes. Influenced by a collection of sombre poetry she had read and a past toxic relationship she was in, Tamara's melancholic single "Autumn Tears" came to life and swiftly gained the attention of many. In a span of one year, Grace has amassed over 200 thousand streams worldwide, been named one of SiriusXM's About to Pop artists, performed on CTV Ottawa Morning Live, garnered radio play from CBC Radio One, Radio Humber, SiriusXM and more, and featured on Tinnitist, Magazine Cool! and Wonderland Magazine, her musical and lyrical approaches being recognized then praised for their boldness and vulnerability.
Her newest release "Auburn," delivers a "polar opposite" atmosphere to her latest heart-wrenching hit "Autumn Tears". She collaborated with producer and drummer Dominique Messier, along with Dion band members, guitarist Kaven Girouard and bassist Yves Labonté. A song that can be described as ardent, blunt and cheeky, Grace touches upon an all too relatable story, "when you have a crush on someone who has no idea you exist… and you can't bring yourself to speak to them, so you carefully contemplate from afar, debating if you should go for it or rather spare yourself from the humiliation".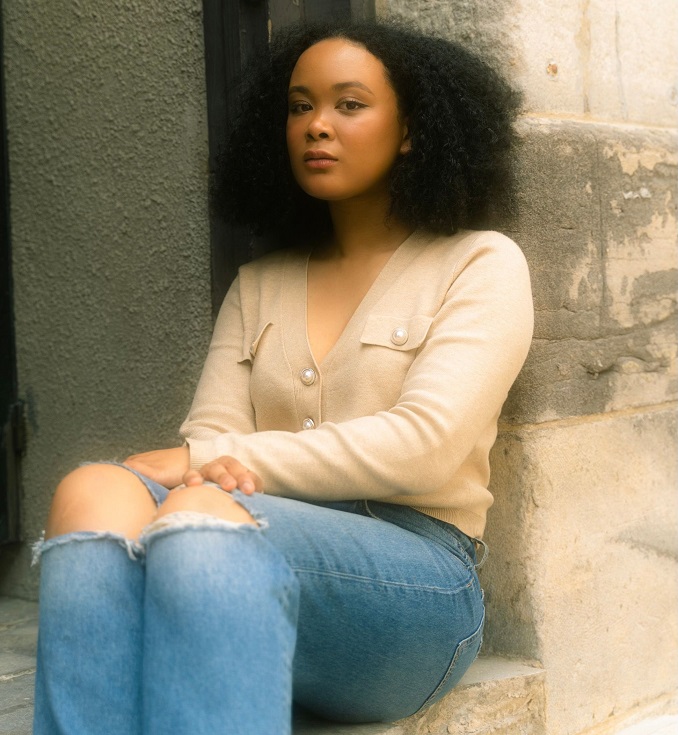 Name:
Tamara Grace
Genre:
Pop
Founded:
01/03/2001
# of Albums:
I will be releasing my debut EP next year!
Latest Album:
n/a
Latest Single:
"Auburn" https://tamaragrace.lnk.to/auburn
Favourite musician growing up:
Queen
Favourite musician now:
I'm tied between Melanie Martinez and Stromae
Guilty pleasure song:
"Bloody Mary" by Lady Gaga, it's chaotic in the most beautiful way possible!
Live show ritual:
I would meditate, then walk around offstage, and drink a great amount of hot water with honey and lemon
Favourite local musician:
Patrick Watson
EP or LP?
LP. I'm especially a sucker for concept albums!
Early bird or night owl?
A great combination of both
Road or studio?
Studio
Any shows or albums coming up?
I just released a new single called "Auburn". It's my pride and joy, and I had lots of fun creating it! I wrote it about having a crush on someone whom I thought was way too cool and popular to acknowledge my existence, then always being oh so nervous when I'm around them. This song is for those who are too shy to make the first move. It truly did boost my confidence when writing it, so I hope it can do the same for others!
Where can we follow you? 
Instagram | Facebook | Twitter | YouTube
***
Rapid Fire Montréal Qs
Favourite local restaurant:
Pancho! I still think about their heavenly ravioli poppers!
Favourite street in your city:
Boulevard du Mont-Royal. It has a "homie" touch to it, and there's always lots happening at once.
Favourite park in your city:
Park La Fontaine, its ambience is truly something oh so special.
Favourite music venue in your city:
Bain Mathieu. It used to be a public pool, which is insanely cool! I hope to do a show there someday!
Favourite music store in your city:
Steve's Music Store.