Chef Mike Greenberg shared with us this healthy, complex, and surprisingly easy to prepare Arctic Char, with Spiced Lentils, Parsley and Sweet Potato Cubes recipe. It also pairs beautifully with an off-dry gewürztraminer. Enjoy!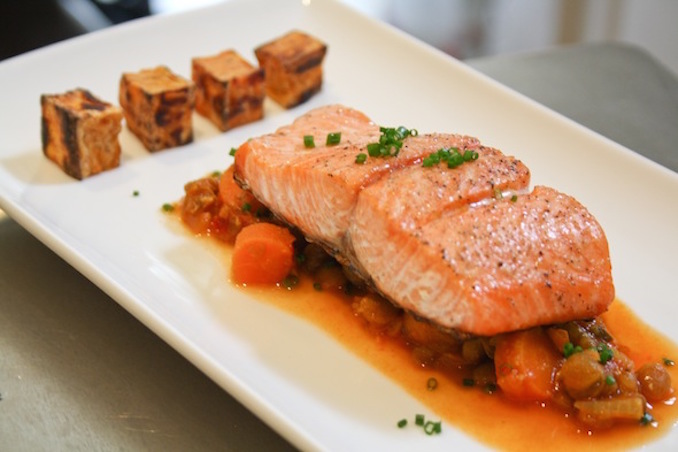 Arctic Char, with Spiced Lentils, Parsley and Sweet Potato Cubes
Ingredients:
Lentils
2 Tbsp Olive Oil
1 Onion (chopped)
1 Tbsp Garlic (chopped)
1 Tbsp Ginger (grated)
1 Tsp Cumin
1 Tsp Paprika
1 Tsp Coriander seed
½ Tsp Turmeric
1 Pinch Cinnamon
¼ Tsp Black Pepper
1 Tbsp Salt
2 Cups Lentils
1 Cup Tomato (Diced)
2 Tbsp Honey
1 Cup Vegetable stock
2 Tbsp each Cilantro, and parsley (chopped)
Roasted Sweet Potato:
1 Sweet potato (peeled and cut into 1 inch cubes)
1 Tbsp Olive oil
Salt and pepper
Grilled Arctic Char:
1 Arctic Char Fillet (cut into 2 pieces, approx 4 oz piece)
1 Tsp Olive oil
Salt and Pepper
Directions:
1. Cook onion in olive oil until soft and beginning to brown. Add garlic, and ginger and cook 2 minutes on medium heat. Add spices, salt and pepper, and toast for an additional minute.
2. Deglaze pan with vegetable stock, add lentils, and tomato. Simmer for 20 minutes.
3. Season with honey and dash of hot sauce (sriracha). Add cilantro and parsley.
4. Toss Sweet Potato cubes with olive oil, salt and pepper.  Roast in the oven at 350 degrees until soft (approx 25 mins).
5. Grill on the barbeque skin side down until fish is just cooked.  Serve over spiced lentils and sweet potato cubes, and garnish with cilantro and parsley. Drizzle with extra virgin olive oil.