La Comida MTL offers healthy, tasty, convenient and ready-to-eat meals in 2-3 minutes using natural ingredients. They offer a new menu every Sunday at 4 pm, to be ordered by Wednesday at 12:30 pm, for pick up or home delivery on Sunday morning! They also offer breakfasts and snacks, 100% sourdough and certified organic breads from Boulangerie Des Rosiers, and Ladykillers hot sauces. For this week's recipe, they shared their famous soba noodle & veggie bowl.
Website | Facebook | Instagram | Boulangerie Des Rosiers | Ladykillers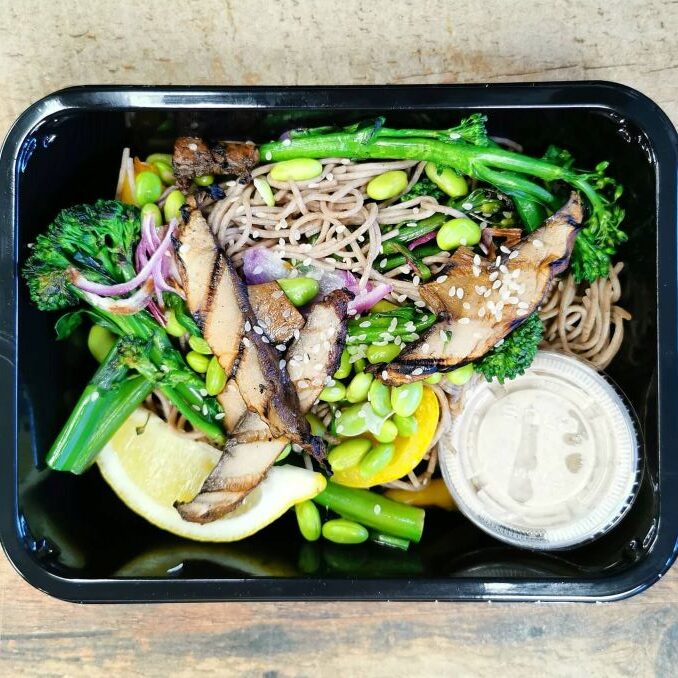 Soba Noodle & Veggie Bowl
Begin by preheating your oven to 375 to cook the vegetables. Additionally, put a medium pot and a large pot of salted water to boil.
Preparing dressing and the vegetables ahead in batches will make it easier to serve.
Ingredients:
-1 Portobello Mushroom
-1 Bell pepper
-1 Red onion
-2 Kale leafs
-2 Brocolinis
-Some frozen edamame
-Soba noodles
-1 tbs Toasted sesame oil
-1 tbs Tamari
-1 tbs Sesame seeds
-green onions
Ingredients for Red curry dressing:
-2.5 tbsp water
-2 tbsp almond butter
-2 tsp red curry paste
-2 tbsp lime juice (juice of 1 lime)
-2 tsp tamari
Whisk all of the ingredients together until smooth. Dilute with water if the consistency is too thick still.
Prepare your vegetables for the soba noodle bowls.
Portobello: remove foot and with a spoon scrape out brown lamella, slice into 3/4 inch thick pieces, brush with olive oil or coconut oil
Bell pepper: rinse and dice the bell pepper into 1 inch cubes, toss in olive oil or coconut oil
Red onion: remove outer skin and slice your onion into wedges or moons depending on the size you'd like (best from top the bottom with the natural lines of the onion, not against them) toss in olive oil or coconut oil
Kale: wash well and pull leafy green leaves from stem, drizzle with very little olive or coconut oil and massage kale to break down the fiber. It will feel softer to the touch.
Broccolini: trim ends
Frozen edamame: can be used thawed, or boiled for 3 minutes drained and cooled
On a prepared cookie sheet with parchment paper, roast the portobellos for 10 minutes, until they start to sweat. Alternatively, you can cook them on a grill if you have one to get a beautiful charcoal / grill flavor.
Add your bell peppers and red onion, being careful to keep them separated on the cookie sheet, and roast for another 10 minutes.
While the oven-roasted veggies are cooking, blanch your broccolini for 60-90 seconds, and edamame 3 minutes if you wish to cook them. All blanched vegetables should be transferred to an ice water bath, then strained to keep their vibrant colour.
Once the roast veggies are done, turn off your oven and add the kale for 3-5 minutes, cook until it is wilted but not yet crispy.
Soba noodles
Add the soba noodles to the large pot of boiling water.
Cook, stirring frequently 4-5 minutes.
Drain and rinse in cold water.
If not served immediately, soak 2-3 times for 3 minutes in cold water, draining noodles each time. You will see the water will come out cloudy. This is the starch we are removing so the noodles do not stick together. On the last soak, add 1 splash of toasted sesame oil and tamari and toss it well, then drain.
To assemble, toss everything together in a bowl and serve!
Serve with sliced green onions and sesame seeds