With St-Jean-Baptiste Day nearing on June 24, this national holiday will be celebrated by French Canadians worldwide to recognize the feast day of Saint Jean the Baptist. While feasting is certainly a big part of this Quebecois holiday and with many reaching for a savoury option, we've got the sweetest recipe that is perfect for the morning after celebrations to gather with friends and family. In collaboration with Mazola, creator and self-proclaimed Specialist in Sweet, Laurie Côté has made an original and delectable recipe for Blueberry Pancake Muffins – the perfect staple for brunch as loved ones get together and share both new and old memories from this special holiday.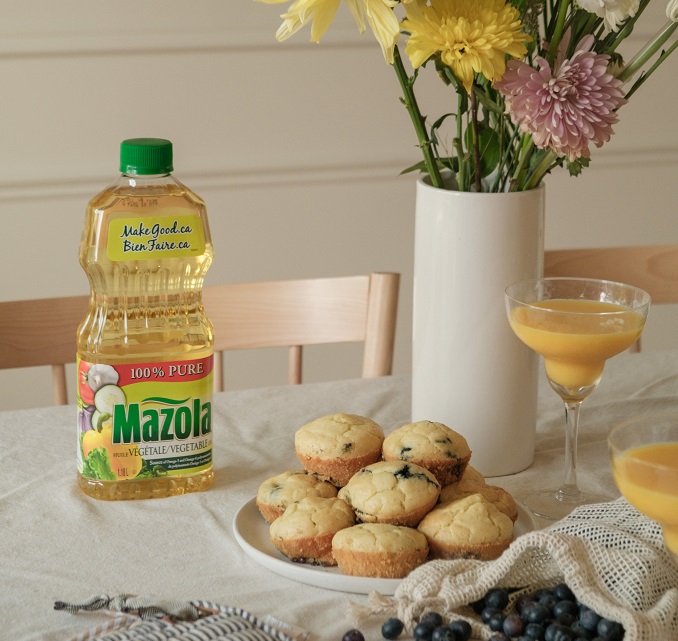 Blueberry Pancake Muffins
Ingredients:
Dry
1 and 1/4 cup all-purpose flour
1 tbsp. baking powder
1/2 tsp. baking soda
Wet
1/3 cup Mazola Vegetable Oil
2 eggs
1 and 1/2 cup milk
3 tbsp. Maple syrup (optional)
1/2 cup blueberries
Directions:
1. Preheat the oven to 350°F.
2. Generously butter a 12-cup nonstick muffin baking pan or use 12 paper baking cups.
3. In a bowl, combine all the dry ingredients.
4. In another bowl, whisk the wet ingredients together.
5. Pour the wet ingredients over the dry ingredients. Add blueberries. Incorporate well.
6. Divide the mixture into the 12 moulds. Bake for 23-25 minutes.
7. Serve like pancakes with maple syrup on top.