If you're looking for a fun date idea for Valentine's Day, you can try making these Jam Filled Cookies, courtesy of Bake Good.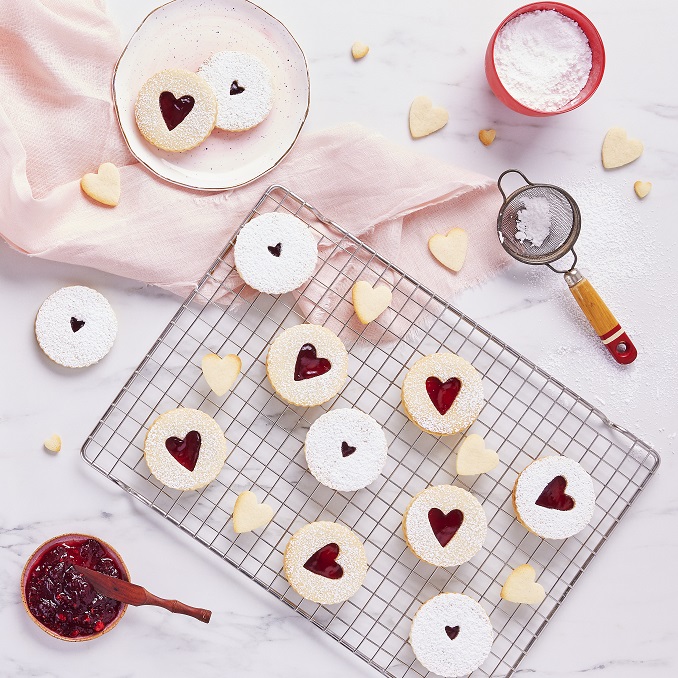 Jam Filled Cookies
Ingredients:
● 1 cup unsalted butter, room temperature
● 3/4 cup granulated sugar
● 1 large egg, room temperature
● 1 teaspoon pure vanilla extract
● 2 1/2 cups all purpose flour
● 3/4 cups hazelnut or almond flour
● 1/2 teaspoon Fleischmann's® Baking Powder
● 1/2 teaspoon fine salt
● teaspoons orange zest
● 1/2 teaspoon ground nutmeg
● 1 cup jam, for filling
● Powdered sugar, to finish
Directions:
1. In the bowl of a stand mixer fitted with the paddle attachment cream butter & sugar until fluffy.
2. Add the egg & vanilla extract. Beat until combined.
3. Sift in the flours, baking powder, salt, orange zest & nutmeg. Beat until dough comes together.
4. Shape into a disc, wrap in plastic wrap & refrigerate until firm. Once dough has chilled, preheat the oven to 350(f) degrees & line two baking sheets with parchment paper.
5. On a lightly floured surface, roll out dough to 1/4 inch thick.
6. Using your favourite cookie cutter shape, cut out dough & place 1/2 inch apart on the baking tray. Using an extra small cookie cutter, cut out a hole in half of the cookies.
7. Bake for 10 to 12 minutes, until golden around the edges.
8. Let cool before filling with jam & dusting with powdered sugar.