Blogger Areta Wong shared with us this delicious Money Bag Dumplings recipe, courtesy of Mazola.ca. In the shape of a bag of gold coins, these dumplings are filled with shrimp and mushrooms and fried to golden perfection using Mazola Corn Oil. If you're feeling extra creative, try swapping out the shrimp and mushroom for a filling of your choice!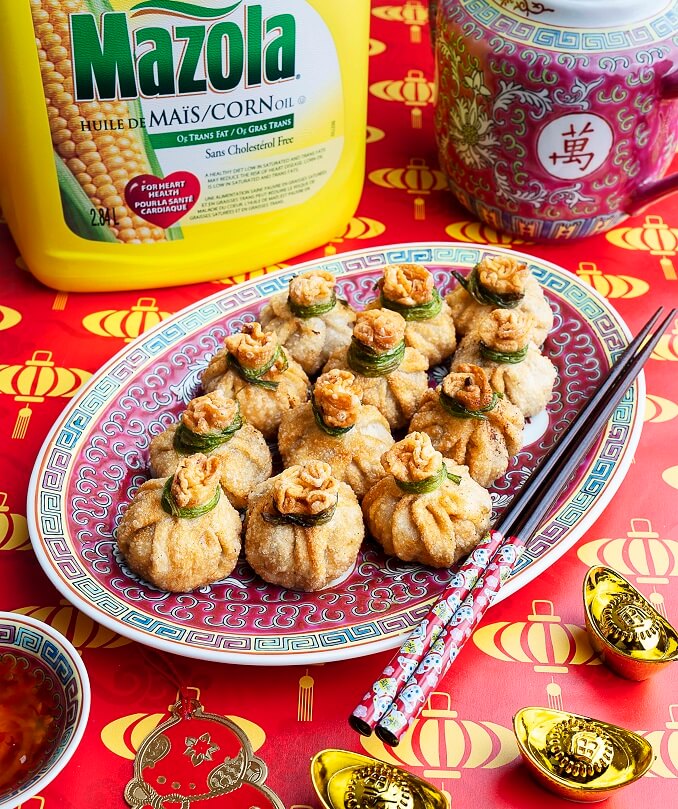 Money Bag Dumplings
Cooking time: 2 hours
Servings: Approximately 40 dumplings
Level of difficulty: Intermediate
Ingredients:
● 1 lb frozen skinless deveined shrimps
● 10 shiitake mushrooms
● 1 stalk of green onion
● 1 tablespoon of oyster sauce
● 1 tablespoon of cornstarch
● 1 lb of round dumpling wrappers
● 1 lb of spinach
● Mazola Corn Oil (enough to fill your pot with 2 inches of oil)
Directions:
1. Dry thawed shrimp with paper towels. Finely chop.
2. Finely chop rehydrated shiitake mushrooms.
3. Finely chop green onion and mix together with shrimp and mushrooms.
4. Add 1 tablespoon of oyster sauce and 1 tablespoon of cornstarch.
5. Add salt to taste.
6. Scoop 1 tablespoon of filling and place in the center of a dumpling wrapper.
7. Fold up the wrapper edge and pinch them together near the top.
8. Remove spinach leaves and blanch the stems in boiling water for 30 seconds.
9. Tie the spinach stem on the pinch spots of the dumplings. Trim away excess spinach stems.
10. Fill your pot with 2-inches worth of Mazola Corn Oil and bring oil to ~180C.
11. Carefully place dumplings in the oil with tongs. Keep dumplings well separated.
12. Fry until golden brown (roughly 10 mins).