Bicko is a company that created «Le Seltzer», their flavoured sparkling water. This local and family-owned product is available in different locations in Canada, including many places in Montreal. This week we talked with their Co-founder and Director, Noah Bick, to find out more about them.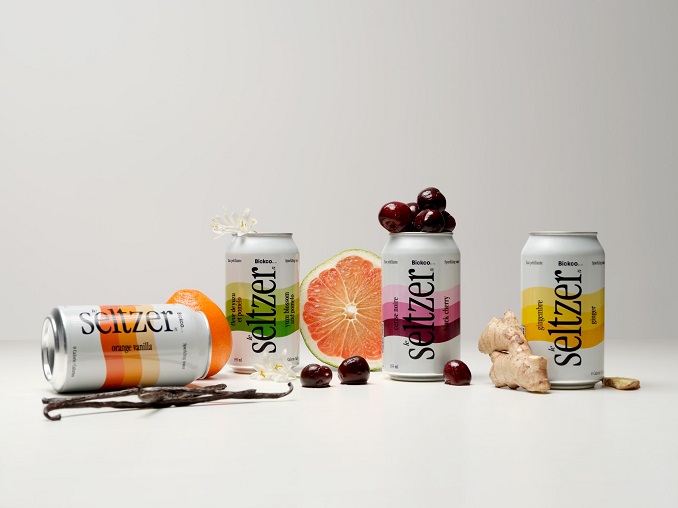 What is your business called and what does it do?
Our company is called Bickco. le Seltzer is our product. We are a family-owned business that makes flavoured sparking water (seltzer). We sell our drinks in restaurants, grocery stores, and directly to consumers.
What made you want to do this work?
My brother Sam and I have always loved sparkling water/seltzer. We grew up drinking a lot of it at home, the deli, and on road trips. We became increasingly interested In the historical tradition of seltzer, which began in 18th-century Europe and played a big part in New York and Montréal Jewish culture in the 1900s. During the early months of the pandemic, we decided that we wanted to start our own brand.
What problem did you want to solve with the business?
As seltzer lovers, Sam and I were always unhappy with the selection available in Québec and Canada. Whenever we would go to Vermont, New York or Massachusetts we would stock up seltzers from exciting brands and flavours not available in Montréal. With le Seltzer, we aim to provide Quebecois and Canadians with a local and family-owned alternative in a category of the food and beverage industry dominated by conglomerates.
Who are your clientele/demographics?
Locally, our best commercial clients are cafes like MELK, Dispatch, Cafe Ferlucci, Myriade, and Café Névé, and restaurants that do a lot of takeouts like Pumpui, Pizza Toni, Mandys, SUMAC, and Pizza Bouquet. We also offer free home delivery for folks who order through our website.
Where in Montreal can we find your profession?
Le Seltzer is available in over 200 locations the majority of which are in Montréal. To find the stockist closest to you, please use the locater on our site.
Our product is also available in some parts of Ontario, and Prince Edward Island at Receiver coffee shops (great folks at Receiver!)
Folks in the GTA can order our product through the Mr. Case home delivery service.
The goal is eventually to have it available across Canada.
What is the best question a prospective customer could ask a member of your profession when comparing services? Give the answer as well.
Unlike our major competitors, our product is locally sourced and produced. Our ingredients, water, and cans are all produced in Québec.
Also, there is sometimes confusion around the term "seltzer" due to the popularity of hard seltzers like White Claw, and Bud Light. Seltzer by definition is simply water with added carbon dioxide for carbonatation. Hard seltzer, obviously, has alcohol added to the recipe. Le seltzer isn't a non-alcoholic hard seltzer, it's just a seltzer!
What is the best part about what you do? What is the worst part?
I love connecting with local business owners and learning new things every day (this is my first foray into the food and beverage and consumer packaged goods industries). Since the product is so heavy, the logistics around freight and delivery are sometimes complicated and expensive.
What are your social media channels?
PAY IT FORWARD: What is another Montreal business that you love?
Shout out to Zamalek. Another amazing local beverage company doing Egyptian hibiscus-based juices.