Chefs Sebastien and Sheila Centner shared their Oven-Poached Salmon with Dill Sauce recipe from their new book, Eatertainment. Enjoy!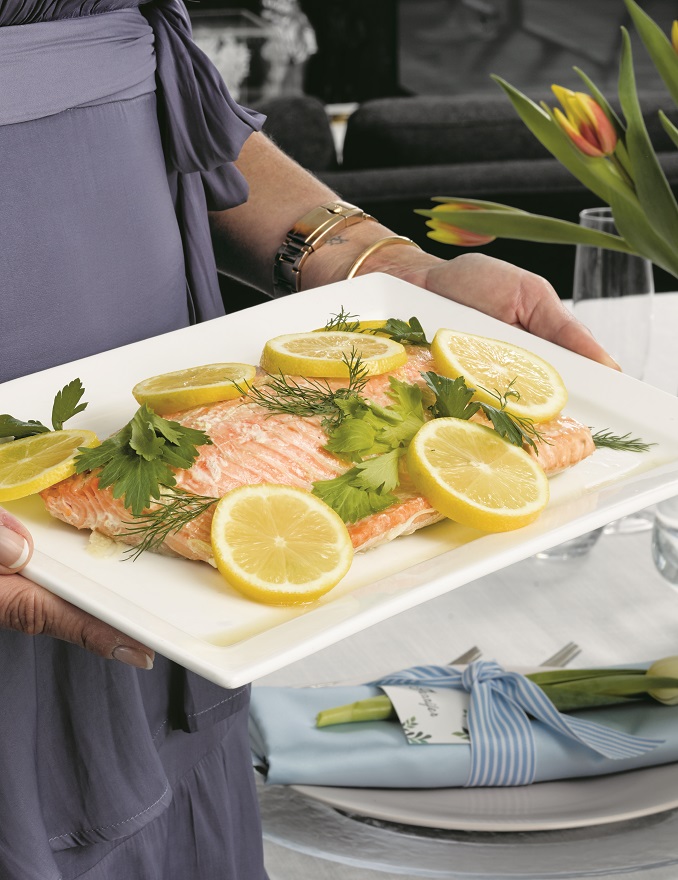 Oven-poached salmon with dill sauce
Yield: serves 6–8
Prep time: 30 minutes
Cook time: 30 minutes
Ingredients:
SALMON
– 2 shallots, thinly sliced
– 1⁄4 fennel bulb, julienned
– 1 (4-inch) piece leek (white portion only), sliced into thin rounds
– 1 stalk celery, thinly sliced diagonally
– 1⁄2 tsp thyme leaves
– 4 lemons, divided
– 1 (2 lb) salmon fillet, center cut, skin and pin bones removed
– 1⁄4 cup fish or vegetable stock
– 1⁄4 cup dry white wine
– 1⁄2 cup flat-leaf parsley leaves
– 2 Tbsp dill leaves
– Sea salt and black pepper
– 3 Tbsp olive oil
DILL SAUCE
– 1⁄2 cup plain Greek yogurt
– 1⁄2 cup plain yogurt
– 1⁄2 cup brick-style cream cheese
– 1 Tbsp olive oil
– 4 mint leaves, chopped
– 1 Tbsp dill leaves, chopped
– 1 tsp black pepper
– 1⁄2 tsp sea salt
– 1 tsp grated lemon zest (from lemon used in the salmon)
– 2 tsp lemon juice (from lemon used in the salmon)
Directions:
FOR THE SALMON
Preheat the oven to 350°F. Line a 9- x 13-inch baking tray with parchment paper, pressing it into the corners and making sure the parchment hangs over the edges of the tray by about 3 inches.
Arrange the shallots, fennel, leeks, celery, and thyme on the parchment. Using a vegetable peeler, peel 8 strips of zest from one of the lemons and add them to the dish. Reserve the remaining lemon zest and juice for the dill sauce. Place the salmon over top of the vegetables. Pour the stock and wine over the fish. Cut 2 of the remaining lemons into 4 wedges each.
Cut a 9- x 13-inch piece of parchment and place it over the fish, weighing down the edges with the lemon wedges.
Bake until the center of the salmon is firm to the touch and the internal temperature is 135°F, 30 minutes. You can peel back the parchment to test the internal temperature or simply pierce the parchment with a sharp temperature probe.
Carefully remove the lemon quarters, then the top sheet of parchment paper, and allow the salmon to cool slightly. Be careful. There will be a lot of steam.
The salmon can be stored at room temperature for up to 3 hours or refrigerated overnight if you're making it ahead.
Using a long offset spatula or barbecue spatula, transfer the salmon to a serving platter (discard the vegetables and spices). Cut the remaining lemon into rounds and garnish the salmon with lemon rounds, parsley, dill, salt, and pepper, and then drizzle with the oil.
FOR THE SAUCE
Mix together the yogurts, cream cheese, and oil. Stir in the mint, dill, pepper, salt, and lemon zest and juice. Serve in a small bowl alongside the salmon. Refrigerate in an airtight container for up to 1 week.
***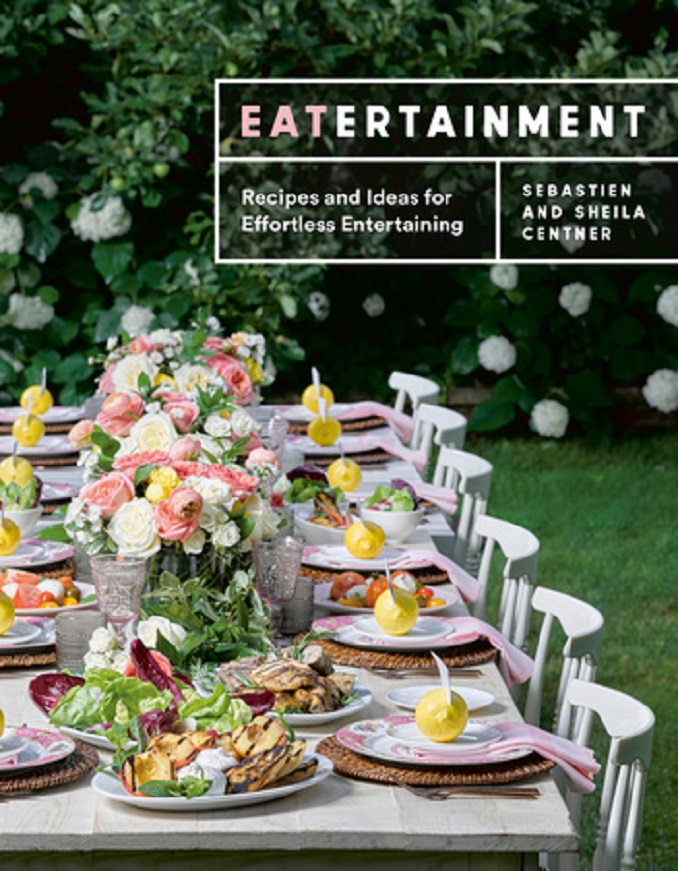 For many people, the idea of planning a dinner party can bring on stress and miss the point altogether: enjoying time with guests. From the owners of leading Canadian event management and catering companies comes Sebastien and Sheila Centner's first book, Eatertainment – a beautifully photographed, all-in-one entertaining guidebook to make entertaining at home as simple as can be.
Sharing their decades of expertise, Seb and Sheila provide readers with practical tips and tricks for entertaining regardless of prep time, availability or budget, with instructions on everything from setting the table, to picking flowers for a center-piece, to even planning an easy loot bag for guests to take home. Featuring more than 140 recipes, 12 different types of events and 3 planning difficulty levels (Simple Entertaining, A Little More Effort and Pulling Out All The Stops), Eatertainment is a thoughtfully-assembled guidebook for anyone looking to host a stress-free gathering – no matter what kind of event you throw.