Chef Chris Cosentini shared his delicious Paccheri with Roasted Bell Pepper Pesto, a rendition of a southern Italian Paccheri pasta. Chef Costentini specializes in his pasta dishes, creating content on his Instagram that helps others bring together quick and delicious authentic Italian food in their own homes. Roasted bell peppers bring together a symphony of garlicky pesto and pistachio, sprinkled with fresh herbs and pecorino romano. It is surely a favourite for the summery pasta lover at any time of year.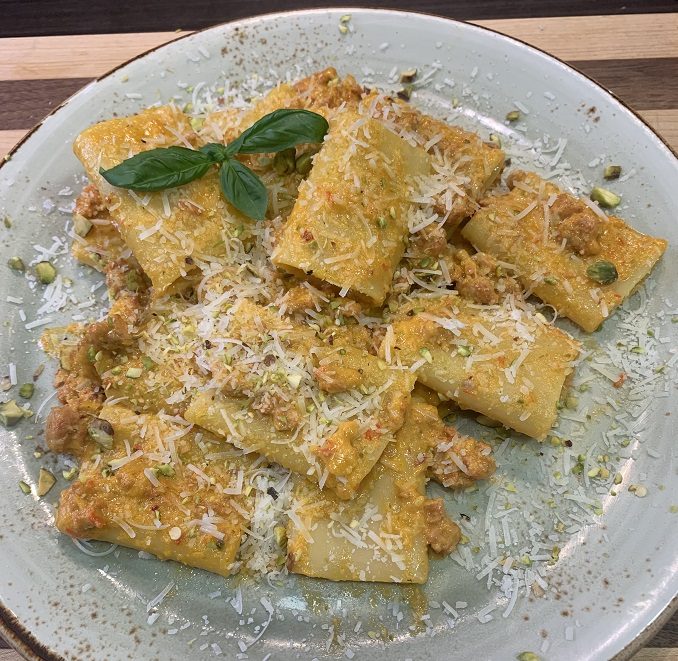 Paccheri with Roasted Bell Pepper Pesto
Ingredients:
200g of Paccheri (rigatoni, penne will do as well)
3 bell peppers (I used red, yellow, orange)
3 spicy Italian sausages
50g pecorino Romano cheese (can be replaced with ricotta cheese)
Handful of unsalted pistachios
1 clove of garlic
1-2 sprigs of Thyme and Rosemary
Handful of basil leaves
Salt and pepper to taste
Chilli flakes (optional)
5-6 tablespoons of olive oil
Directions:
1. Roughly chop up your bell peppers and place them on a baking sheet.
2. Mix chopped peppers with olive oil and your thyme and rosemary and let cook until soft in the oven at 400° (about 10-15 mins)
3. While that's cooking remove the sausage from the casing and cook in a frying pan at medium heat to allow the fat to render
4. Fill a large pot with water and let boil
5. Once water is boiling, add a tablespoon of salt and add in your pasta, cook the pasta until 2-3 mins before the recommended time on the pack
6. Remove the sausage from the pan once cooked, keep the rendered fat and oil, as we will use that to finish cooking the pasta.
7. Add the pasta and about half a mug of pasta water to the pan that the sausage was in, and let the pasta finish cooking.
8. In the meantime take out the peppers from the oven, put them in a blender or food processor with some pecorino, basil leaves, pistachios, garlic cloves and some pasta water and blend until you get a creamy consistency.
9. Add your pepper sauce along with the sausage to the pan and mix everything together
10. Now you are ready to plate your pasta, sprinkle some pecorino and crushed pistachios and enjoy! Buon Appetito!