Chef Dale MacKay shared with us this delicious Leek, Bacon and Cheese Mini Frittatas recipe. To help make the Easter holiday fun, memorable, and tasty, Egg Farmers of Canada has teamed up with top chefs across the country to develop a collection of easy-to-make, eggcellent brunch recipes. These mini frittatas are flavourful and easy to make, leaving more time to spend with friends and family while entertaining. Filled with smoky bacon, tender leeks, and gooey cheese, they are the perfect bite-sized brunch dish.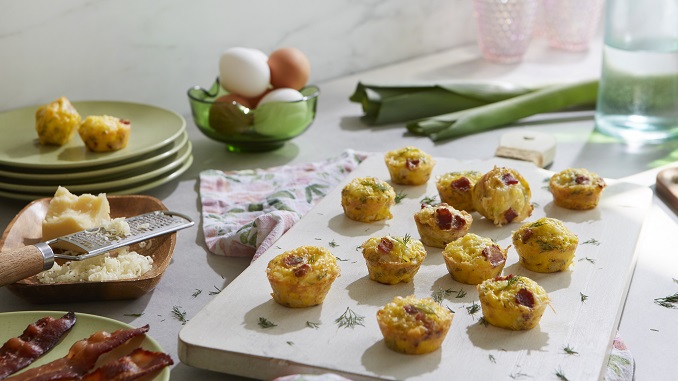 Leek, Bacon and Cheese Mini Frittatas
Prep Time: 5 minutes
Cook Time: 10 minutes
Serves: 12
Ingredients:
⅓ cup (75 mL) bacon, chopped
1 cup (250 mL) leeks (or onion), finely diced
1 cup (250 mL) white cheddar cheese, finely grated
Egg Mix:
2 whole eggs
4 egg yolks
½ tbsp (7.5 mL) dill, finely chopped
¼ tsp (1.2 mL) black pepper
⅛ tsp (0.62 mL) salt
⅛ tsp (0.62 mL) smoked paprika
Directions:
1. Preheat oven to 350°F (180°C). In a medium pot, fry the bacon on medium heat until almost crispy.
2. Add finely diced leeks (or onion) to the pot and cook until translucent (approximately 3 minutes). Set mixture aside to cool.
3. Very lightly spray mini muffin tray with baking spray. Slowly pour the ingredients evenly into the mini muffin tin.
4. In a medium bowl, whisk together the eggs and egg yolks, season with black pepper, salt and smoked paprika and fill the mini muffin tin ⅔ of the way full.
5. Spread finely grated white cheddar cheese evenly over mixture within the muffin tins.
6. Bake for approximately 8-10 minutes. Once complete, garnish with a spring of fresh dill. Serve warm or let cool and reheat later at 300°F (176°C) for 3-4 minutes. These frittatas can also be served at room temperature.
Chef Tip: Make use of your leftover egg whites by making a delicious pavlova or crunchy meringues