BakeGood shared with us this delicious Pavlova recipe, perfect for celebrating Mother's Day. For moms with a sweet tooth, Pavlova is a fantastic dessert option that shows the baker in question is thinking outside the box when it comes to sweet treats. This meringue-based "cake" is perfect for spring with its light-as-air texture combined with a topping of whipped cream and fresh fruit. This is one dessert that won't weigh you down (nor let you down!)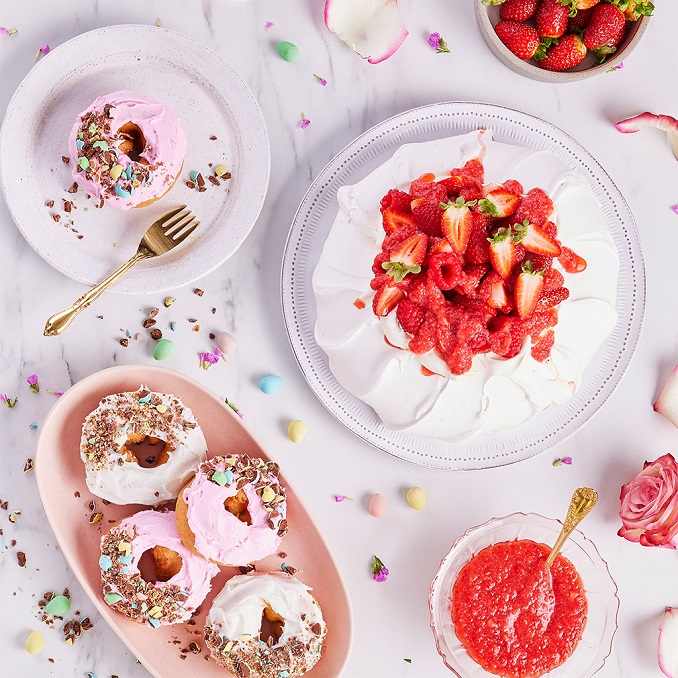 Pavlova
Ingredients:
● 6 large egg whites, room temperature
● 1 tsp. of vinegar
● 1 ½ tsp. Fleischmann's Corn Starch
● 1 ½ cups of fine-granulated sugar
● 2 tsp. of vanilla extract
● ¼ tsp. of fine sea salt
● 1 ½ cups of heavy whipping cream
● ¼ cup of icing sugar
● 1 cup of fresh fruit, sliced
● ¼ cup of roughly chopped pistachios
Directions:
1. Preheat the oven to 200°F, and set the rack to the lowest part of the oven. Line a cookie sheet with parchment paper.
2. Draw out a 20 cm circle with a pencil. Flip the parchment over so the pencil side is down.
3. In a small bowl, whisk together the vinegar and cornstarch until combined and set aside.
4. Fit your stand mixer with the whisk attachment and add in the egg whites. Start whisking on low speed until the egg whites become foamy with little bubbles (approx. 4 minutes)
5. Bring up the speed to medium and continue mixing until soft white peaks begin to form (approx. 3-4 minutes). Slowly start adding in your sugar one tablespoon at a time and continue mixing until all sugar has been added and stiff peaks start to form (approx 5 minutes).
6. Add in your cornstarch/vinegar mixture, vanilla extract and salt and beat on high speed for 4-5 minutes. Or until the meringue is stiff and glossy. You can test the meringue by dipping your finger into it and pressing it between the thumb and forefinger. You should not be able to feel any sugar granules, the meringue should be soft and smooth.
7. Use a rubber spatula and form a mound onto the parchment paper, keeping it within your drawn circle. Create a slight divot in the centre for your filling to go in and use the back of a clean spoon and gently press into the side working in an upward motion from the bottom to the top to create a pattern all along the edge.
8. Bake for 1 hour and 30 minutes. Then turn off the heat and crack open the door and leave it undisturbed in the oven for another hour.
9. Carefully remove from the oven and place on a wire rack to cook.
10. While the pavlova is cooling, prepare the topping.
11. With the whisk attachment on the stand mixer, add the whipped cream to the bowl and whisk on medium until it begins to thicken. Gradually add in icing sugar and continue mixing, bringing up the speed to high. Mix until soft peaks forms (approx 4 minutes)
12. Wash, dry and cut your fruit. Plate your pavlova and spread the whipped cream in the centre and top with your favourite fruit and nuts.
13. Serve immediately.