Canadian MSC Ambassador Chef Charlotte Langley shared with us this recipe for Roasted Cabbage Salad with Cod and a Herby Yogurt Dressing. Cabbage is slowly becoming a not-so-silent star in recipes on social media, for good reason. It's versatile, rich in antioxidants and fibre, and very affordable. Served with a fresh and tangy yoghurt dressing, this one-pan wonder will easily become a regular in your summer meal rotation.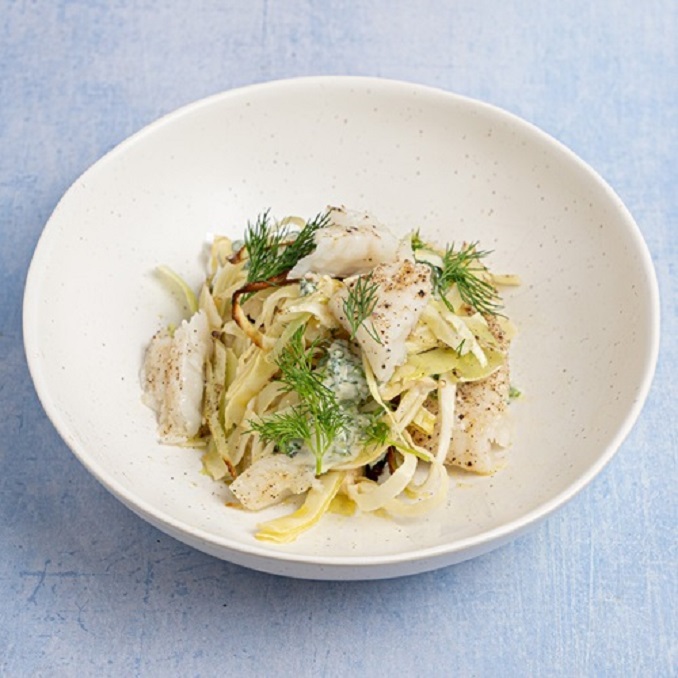 Roasted Cabbage Salad with Cod and a Herby Yogurt Dressing
Prep: 10 minutes
Cook Time: 15-20 minutes
Serving size: 4 as a main course for lunch or dinner
Experience level: Beginner
Ingredients:
4 cups (240 g) green cabbage, sliced into 1" strips
1 package (400 g) of frozen MSC certified sustainable wild cod
1 cup (250 ml |240 g) full fat plain yogurt
2 tbsp (30 ml) apple cider vinegar
2 tbsp (30 ml) maple syrup
1 tbsp (15 ml) Dijon mustard
Handful of mixed fresh herbs of choice (basil, tarragon, dill, mint, parsley)
Olive oil for drizzling
Lemon for finishing
Directions:
1. Preheat oven to 375°F
2. On a parchment-lined baking sheet spread the cabbage evenly and drizzle with olive oil and a little salt.
3. Place cod on same sheet and repeat drizzle of olive oil and salt.
4. Roast for approximately 15 minutes or until fish is cooked through and the cabbage is lightly browned.
5. In a mixing bowl, add yoghurt, Dijon, maple syrup, apple cider vin and chopped fresh herbs and mix thoroughly. Taste and adjust seasoning to your liking.
6. Break the cooked cod into large chunks. On a plate, assemble the cabbage and cod while warm, not hot, and drizzle liberally with herby yoghurt. Garnish with a few sprigs of fresh herbs and a squeeze of lemon.