Danielle Levy, who has a background in holistic nutrition and now works as a plant-based chef, shared with us her rendition of a Sesame Tofu recipe. This light and healthy recipe is perfect for any meal during the last of the hot summer months. This tofu dish offers a mix of sweet, salty, and spicy flavours, along with nuttiness from the sesame seeds. Even people who typically don't like tofu really enjoy this satisfying Asian-inspired recipe!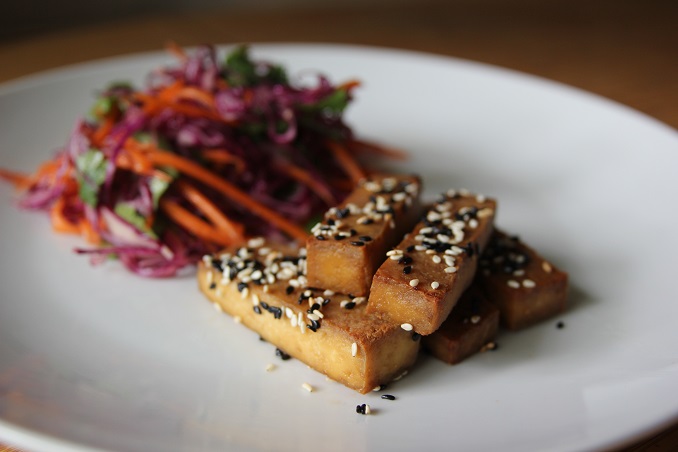 Sesame Tofu
Serves 4
Ingredients:
Extra firm or firm tofu, 350 grams (drained from the package and rinsed)
Braggs liquid aminos (low sodium soy sauce), 1/2 cup
Maple syrup, 2.5 tbsp
Ginger root, 2-inch knob
Garlic, 2 cloves
Toasted sesame oil, 1/2 tsp
Sriracha, 1/4 tsp
White sesame seeds, 2 tbsp
Black sesame seeds, 2 tbsp (if you can't find this item use more white sesame)
Olive oil, 3 tbsp
Directions:
1. Prepare the marinade by mixing the Braggs aminos, maple syrup, garlic, ginger, sesame oil, and sriracha in a blender. Set aside in a large deep dish or Tupperware container.
2. Cut the tofu into thick French fry-shaped strips. About 1 inch thick / 3 inches long.
3. Marinate the tofu for 1 hour in the fridge.
4. Meanwhile, add the B&W sesame seeds to a small bowl and mix to combine.
5. Drain the marinade and coat the tofu in 3 tbsp of olive oil. Space out the tofu strips on a parchment-lined baking sheet. Bake at 385°F for 20 minutes. Remove the tofu from the oven and coat with the sesame seeds. Bake for another 10 minutes to let the tofu get slightly crispy and allow the sesame to get toasty. Enjoy!