For this week's recipe feature, Bri Beaudoin shared her recipe for Shortcut Brothy Beans. This dish instead infuses canned beans with heaps of flavour, in a fraction of the time. In addition to the usual suspects—shallots, garlic, and herbs—tomato paste and miso add an extra depth of flavour. It's an impressive level-up for canned beans!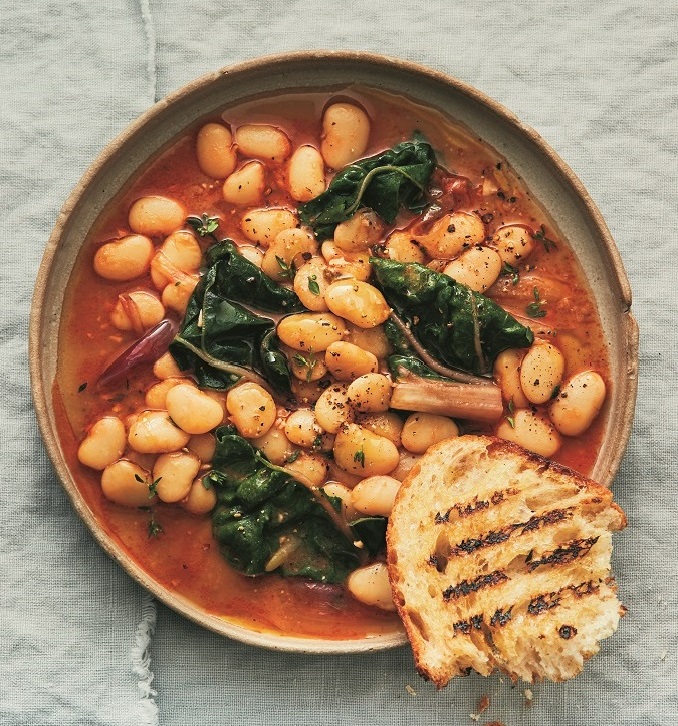 Shortcut Brothy Beans
Ingredients:
– ¼ cup extra-virgin olive oil, more for garnish
– 1 tablespoon tomato paste
– 2 large shallots, thinly sliced (1 cup)
– 5 garlic cloves, minced
– 1 tablespoon fresh thyme leaves
– 2 cups vegetable stock
– ½ teaspoon freshly ground black pepper
– ¼ teaspoon fine sea salt
– 2 cans (14 fl oz / 398 ml each) butter or cannellini beans, drained and rinsed
– 1 tablespoon white miso
– 3 cups packed chopped Swiss chard, spinach, or lacinato kale
– Lemon wedges
– Grilled crusty bread or focaccia, for serving (optional)
Directions:
1. Cook the tomato paste, shallots, and herbs: In a large Dutch oven or pot, heat the olive oil over medium heat. Add the tomato paste and shallots and cook, stirring frequently, until the shallots are soft and the tomato paste has darkened about 5 minutes. Add the garlic and thyme and cook, stirring continuously, until fragrant, about 1 minute.
2. Add the stock and simmer: Add the vegetable stock, pepper, and salt. Cover with a lid and bring to a boil. Once boiling, reduce the heat to medium-low and simmer for 5 minutes to let the flavours meld.
3. Add the beans, seasonings, and greens: Pour the beans into the pot and gently stir to mix. Cover with a lid and cook over medium-low heat until the beans are warmed through, about 10 minutes. Stir in the miso until fully dissolved. (It's okay if some beans get squished while doing this—it'll thicken the broth.) Stir in the Swiss chard. Taste and season with more salt, if needed.
4. Serve: Serve the beans hot with lemon on the side and bread for dipping, if using.
***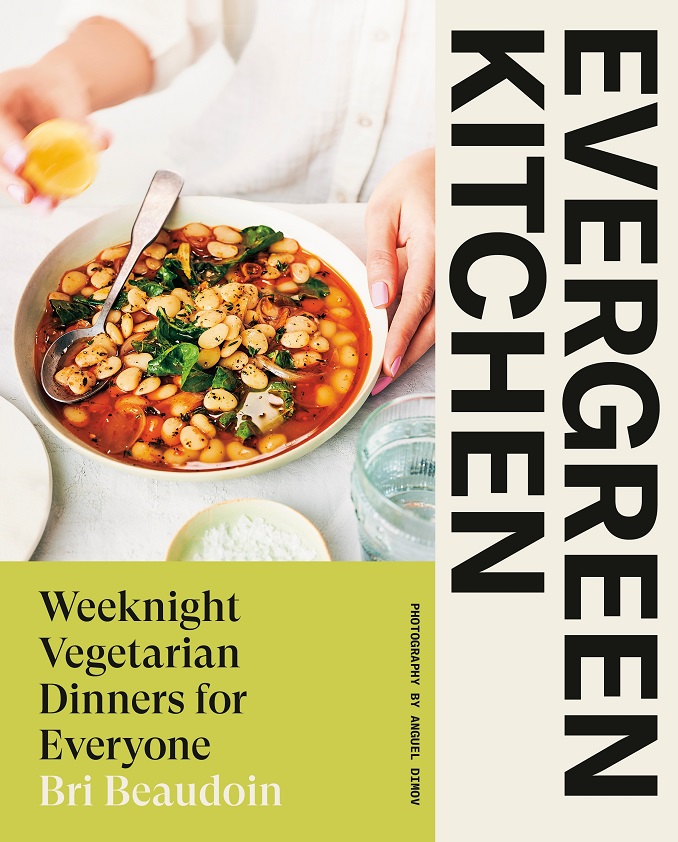 October 28 marks the release of Evergreen Kitchen, the highly-anticipated first cookbook from recipe developer, certified nutritionist, and food stylist, Bri Beaudoin. As the creator and chef behind the hugely popular blog by the same name, Bri has packed her first cookbook with 110 delicious recipes that will feed everyone from the most seasoned vegetarian to those curiously testing the waters.
While we all know that a home-cooked meal is the best for our budgets and our health, the idea of cooking dinner on weeknights can feel like a chore. With so many of us eating more veggie-forward meals, it's no wonder busy home cooks are craving tasty vegetarian recipes that everyone at the dinner table will love.