Chef Dennis Prescott shared his unique and absolutely delicious recipe for Coffee & Coriander Rubbed Grilled Turkey Breast BBQ with Potatoes Wedges and Grilled Jalapeno Salsa.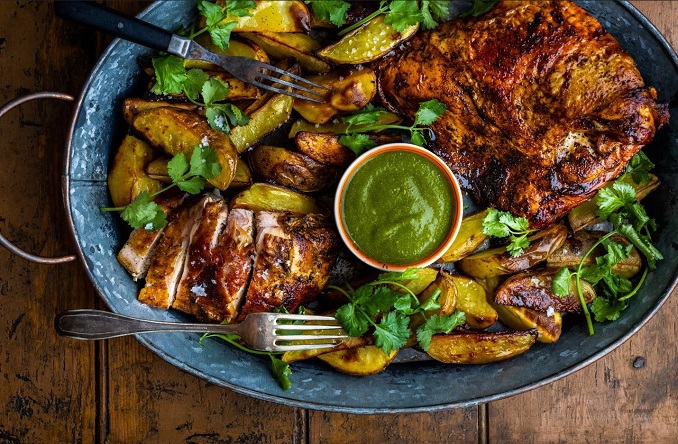 Turkey Breast BBQ
Serves: 4-6
Prep time: 10 minutes plus overnight for brining
Cooking Time: 1 hour
Ingredients:
Grilled Turkey
– 8 cups water
– 1⁄2 cup sea salt (plus more for your rub)
– 1⁄2 cup + 1⁄2 tablespoon packed brown sugar, divided
– 1 6-8 lb turkey breast
– 3 fresh thyme sprigs
– 3 fresh rosemary sprigs
– 1 head garlic, halved
– 1 1⁄2 Tbsp. olive oil
– 1⁄2 Tbsp. ground coffee
– 1⁄2 Tbsp. ground coriander
– 2 tsp. smoked paprika
– Zest of 1 lemon, grated on a microplane
– 1⁄2 tsp. fresh cracked black pepper
Potato Wedges
– 3 lbs Yukon gold potatoes
– 2 Tbsp. olive oil
– 1⁄4 tsp. each sea salt and cracked black pepper
Grilled Jalapeno Salsa
– 5 medium jalapeños
– 4 garlic cloves, peeled
– 6 sprigs of cilantro
– 2 green onions
– 2 Tbsp. fresh squeezed lime juice
– 2 Tbsp. pure maple syrup
– 1/3 cup apple cider vinegar
– 1 tsp. sea salt
Directions:
1. First, brine your turkey. Combine the water, 1⁄2 cup sea salt, and 1⁄2 cup brown sugar in a large stockpot and bring to a boil. When the salt and sugar have dissolved, remove from the heat, add your thyme, rosemary, and garlic, and cool to room temperature. Add your turkey breast, making sure that it's completely submerged, then cover and chill in the fridge for 12 hours (or overnight).
2. Preheat a grill to 350 °F and line a baking tray with parchment paper.
3. Remove the turkey from the brine and pat dry with paper towels. In a small bowl, combine your coffee, coriander, 1⁄2 tablespoon brown sugar, smoked paprika, and lemon zest, then season with salt and pepper to taste and mix well. Coat the turkey with olive oil, then rub all over with your spice mixture. Insert a meat probe, then place directly on the grill grates and grill until smoky, golden, and cooked through to an internal temperature of 165 °F (we always want to be cooking to temperature, not time).
4. Meanwhile, cut your potatoes into wedges, then arrange them on the prepared baking tray. Drizzle with olive oil, season with sea salt, then toss to mix well. Place on the grill underneath your bird (to catch any fat the turkey releases), and cook until golden and crispy, about 45 minutes to 1 hour.
5. Lastly, make your salsa. Place the jalapenos directly on the grill grates and cook until beautifully charred all over (about 25 – 30 minutes).
6. Remove the stems from the jalapenos, then combine peppers and your remaining salsa ingredients in a high-powered blender and pulse until smooth.
7. Rest your turkey, skin-side up, for at least 20 minutes before carving, then plate up family-style with your potatoes wedges, and salsa, and serve. Delicious!
TIP: You can use skinless turkey breast for a leaner option.