Chuck Hughes wants to spice up your grills with a BBQ recipe that brings the flavours of Mexico to the barbecue. His recipe 'Al Pastor-Style BBQ Tacos,' combines turkey, unique spices, peppers, and pineapple, which he grills up for a light and easy meal for weeknights!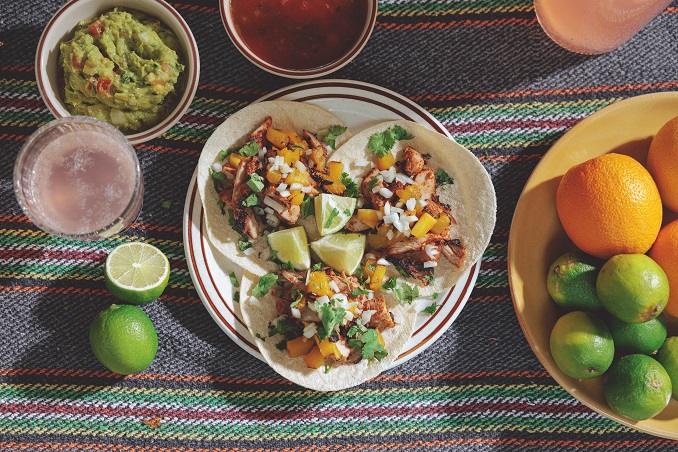 Al Pastor Style Turkey Tacos
Serves: 4-6
Prep time: 30 minutes
Cooking Time: 35 minutes
Credit: Canadian Turkey
Ingredients:
– 2 deboned turkey thighs, cut in half
– 1 diced onion 3. 1 cup chopped cilantro
– 1 fresh lime in quarters
For marinade: 
– 1 cup water
– 1 freshly squeezed orange juice
– 1/4 cup white vinegar
– 1 dried guajillo pepper
– 1 dried ancho chilli pepper
– 3 small dried chipotle peppers
– 4 garlic cloves
– 1 cup chopped pineapple
– 1 Tbsp achiote paste
– 1 Tbsp brown sugar
– 1 Tbsp dried oregano
– 1 Tbsp cumin
– 1 Tbsp salt
– 1 tsp pepper
Directions:
1. In a saucepan add water, orange juice, vinegar and all three kinds of peppers. Bring to a boil, cut the heat, and let steep for 10 minutes. Add all other ingredients and blend to a paste in a blender. Marinate 4 deboned turkey thighs for about 2-3 hours not much longer.
2. Grill on high for about 5 minutes on each side to get a char.
3. Cook another 20-25 minutes on indirect heat to finish cooking.
4. Let meat rest for 10 minutes and then chop.
5. Serve with warmed corn or flour tortillas, guacamole, pico de gallo, onion, cilantro and fresh lime and grilled pineapple.
***
NUTRI TABLE (4 servings):
Calories: 206
Protein 32 g
Carbs 8 g
Fat 6 g
Sodium 402 mg