Club House shared with us this delicious recipe for Vegan Barbacoa, a plant-based twist on the classic dish. Grilled eggplant and portobello mushrooms, seasoned to perfection, create a flavourful and satisfying filling that pairs beautifully with warm corn tortillas and an array of toppings, offering a vibrant and cruelty-free dining experience for everyone at the table.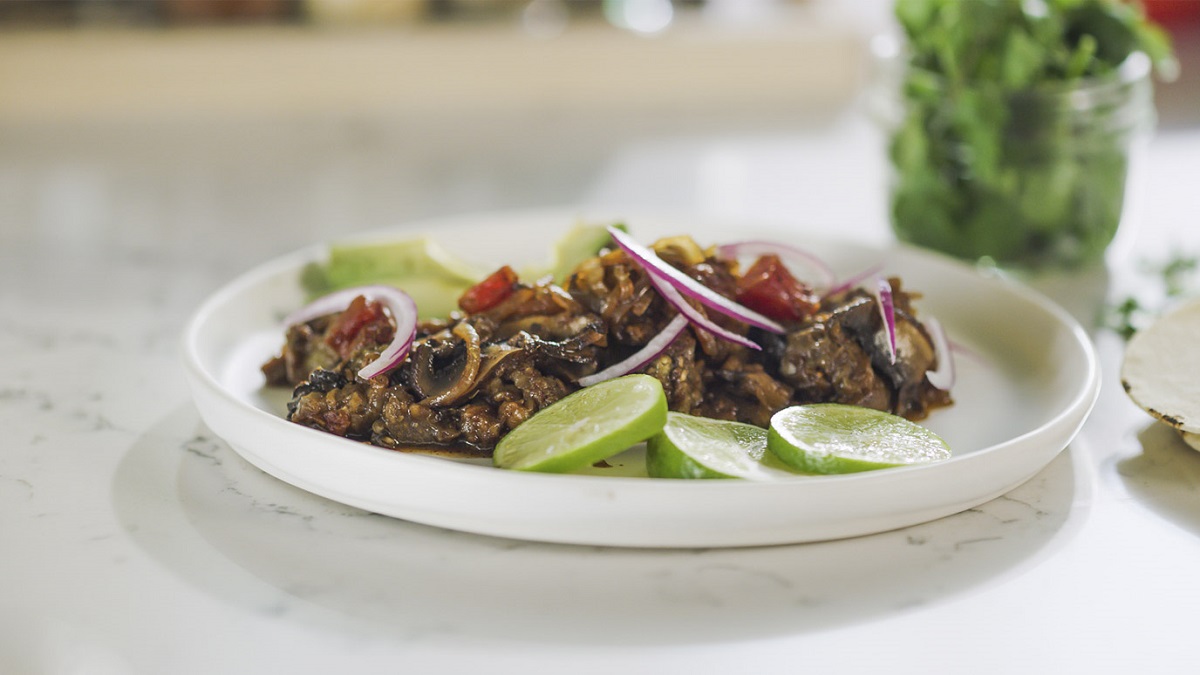 Vegan Barbacoa
Prep Time: 10 min
Cook Time: 30 min
Servings: 8
Ingredients:
1 tablespoon (15 ml) Chili Powder
2 teaspoons (10 ml) Garlic Powder
1 teaspoon (5 ml) Cumin, Ground
1 teaspoon (5 ml) Oregano Leaves
1/2 teaspoon (2 ml) crushed chipotle pepper (McCormick)
1/4 teaspoon (1 ml) Pepper, Coarse Black
1 teaspoon (5 ml) salt
1 large eggplant, cut in half lengthwise
4 large portobello mushrooms caps
2 tablespoons (30 ml) oil
1 medium white onion, thinly sliced (about 1 cup/250 ml)
1/2 cup (125 ml) diced tomatoes
2 large sheets heavy-duty aluminum foil, (about 24 inches/60 cm long)
1/2 lime, juiced
Directions:
1. Prepare grill for indirect heat by turning all burners to high. Mix spices and salt in small bowl.
2. Score cut side of eggplant with diagonal crisscross cuts about 1-inch/2.5-cm apart, leaving skin intact. Brush tops of mushroom caps and cut-side of eggplant with oil. Sprinkle both mushrooms and eggplant evenly with 1/2 (about 4 teaspoons/20 ml) of the spice mixture, making sure seasoning gets into cuts in eggplant.
3. Grill mushroom caps and eggplant over direct heat until charred, about 5 minutes per side. Turn off burners on one side of grill.
4. Place onion in center of double layer of foil. Sprinkle with about 1 1/2 teaspoons (7 ml) of the spice mixture. Place charred eggplant, cut side up, on top of the onions. Arrange diced tomatoes over top of the eggplant and sprinkle with about 1 1/2 teaspoons (7 ml) of the spice mixture. Top each eggplant half with 2 portobello mushrooms and sprinkle with remaining spice mixture. Bring up long sides of foil and fold to seal. Then fold in short sides, to form a tightly sealed packet.
5. Place foil packet on unlit side of the grill. Cook 10 minutes. Flip packet over and cook 10 minutes longer, until eggplant is tender and can be easily separated from skin.
6. Carefully remove packet from grill and open foil to allow steam to escape; let cool slightly. Remove mushrooms from packet and slice into very thin strips. Peel skin from the eggplant and discard. "Shred" eggplant with two forks and mix with onions. Stir in sliced mushrooms and sprinkle mixture with lime juice.
7. Serve vegan barbacoa mixture in warm corn tortillas, if desired with lime wedges and toppings such as diced tomato, pickled onions, cilantro, sliced jalapenos, vegan cheese and vegan sour cream.
Test Kitchen Tips:
– Score eggplant most of the way through, leaving the skin intact, to allow the spice mixture to get into the cuts for even flavour.
– Slicing the mushrooms into very thin strips and "shredding" the eggplant will give you a more meat-like texture.
– If you don't have a grill, place eggplant and mushrooms on a shallow baking pan and broil on high about 5 minutes per side or until nicely charred.
– After charring the veggies and forming the foil packet as directed, you can finish cooking in the oven. Roast packets in preheated 350°F/180°C oven for about 20 minutes, flipping packet over halfway through cooking.