Montréal female-led band La Sécurité highly-anticipated debut L.P. Stay safe! released this summer, it Is a spontaneous, danceable, and fun-packed ten-track album. Stay Safe! draws on a hodge-podge of various sources, often changing between punk, new-wave, and post-punk, often changing between genres on every song making their music wholly unique. The culmination of all these influences is what lead singer Éliane Viens-Synnott calls art-punk. "Art-punk is an appropriate title for our work as it embodies – the do-it-yourself mentality; we create everything from the album cover, music video choreography, the merch, and record our album; it's all made from scratch.". With their thrifted disco-ready outfits, social commentary, support of feminism, and punchy baselines, La Sécurité has quickly earned comparisons with notable bands – Le Tigre, the B52s, Maximum Joy, and E.S.G.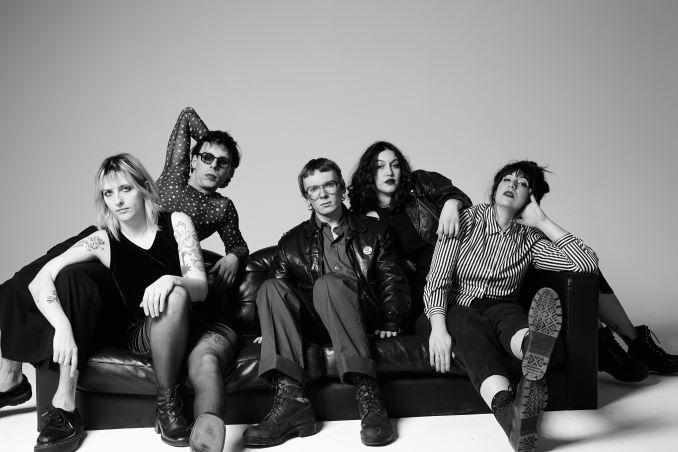 They came together almost accidentally when bass player Félix Bélisle and singer Éliane Viens-Synnott decided to record a few songs as a joke to show friends " We recorded some songs for fun and showed them to our friends at Mothland with no desire to put it out, but we're taken aback and told us we should record them more seriously.". They invited Melissa Di Menna to join on guitar and on vocals adding layered melodies, Kenny Smith showcasing his incomparable expertise on drums, and Laurence-Anne also on guitar, adding some smooth layered variation. The band formed in the spring of 2022, bringing together five eccentric musicians from local projects – Laurence-Ann, Choses Sauvages, Pressure Pin, Silver Dapple, and DATES.
La Sécurité has upcoming shows on Sat. Le Denises du Lac, September 9th in Péribonka and Pop Montreal Festival 2023, September 30th at Theatre Rialto.