Where stadium rock meets underground punk, that's where you'll find Yester Daze.
Size doesn't matter when it comes to their desire to satisfy hungry rock audiences. Playing in clubs, bars, near or far, Yester Daze deliver larger than life performances, pouring their hearts out and leaving it all on stage. Since their inception, their goal has remained the same: light it up.
Forming in 2018, the Montreal-based band Yester Daze is fronted by lead singer Brandon McShad with guitarist Zach Lemay, bassist Marc-Olivier Bourdon and Matt Ware on the drums. Fast friends in the rehearsal space, the boys quickly recognized their natural chemistry and complementary musical personalities. Taking inspiration from artists like Foo Fighters, Muse, Royal Blood, Billy Talent, My Chemical Romance, and The Pretty Reckless, the band works to build off of the high energy and honest lyricism to create resonating and infectious anthems. An ode to the past, present and future, Yester Daze have found a unique sound by combining feel-good grooves and unforgettable melodies alongside high-contrast dynamics.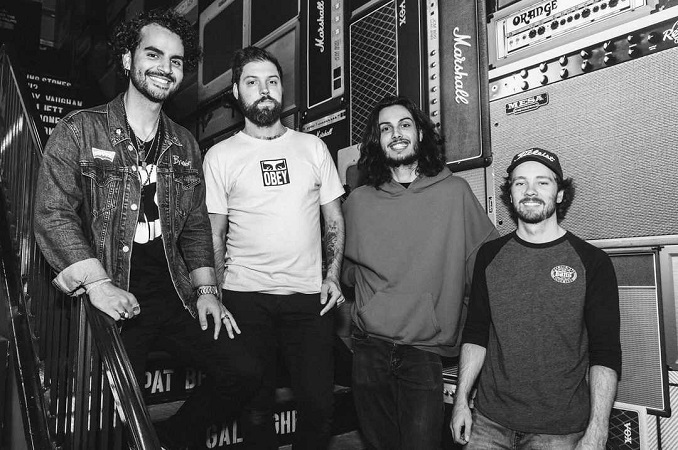 Name:
Yester Daze
Genre:
Rock
# of Albums:
1 EP
Latest Album:
Yours To Follow EP (rel. 2021), new singles this fall, new EP out top of next year.
Latest Single:
"Backseat Bingo"
Latest Video:
Favourite musician growing up:
It's a little tricky because I had so many but definitely Dave Grohl. I wouldn't have started learning guitar and probably would still be a drummer to this day.
Favourite musician now:
Still Dave Grohl, but I'd be lying if I didn't mention Prince, John Mayer, Chris Cornell, Jeff Buckley. There are far too many to name and I'll surely think of more after this is posted.
Guilty pleasure song:
I don't believe in guilty pleasures. I think a good song is a good song, regardless of artist or genre. That being said, Dua Lipa absolutely slaps. Can't pick a song.
Live show ritual:
Nothing crazy, usually vocal warmups and plenty of water. I'm lame.
Favourite local musician:
Too many to name. Our friends in The Damn Truth, Les Shirley, Nobro, Ivytide, Old Soul. The city is full of incredible people.
EP or LP?
I have ADHD so EPs can be a lot easier to take in, but I think if an album isn't overly ambitious in length, it's incredible.
Early bird or night owl?
I'm a night owl in training to be an early bird. My brain gets really creative late at night, so I'll sometimes demo or write songs at like 2 in the morning.
Road or studio?
They both have their advantages. Studio is so much fun with our producer Matt Nozetz at Avbury Studios. He's basically the fifth member of the band and it's never not a good time. Road is great because we get to play to new and familiar faces and it's always fun when you can tell when the crowd is on your side. Plus, we just have a lot of fun together on stage and joking around with each other and the crowd.
Any shows or albums coming up?
We do have a standalone single called "Sheets" that didn't quite fit the EP we just wrapped up. That will most likely be out in August. Our EP titled "Nothing, Perfectly" will be out end of winter 2024.
Where can we follow you?
Linktree | Facebook | Instagram | Youtube
***
Rapid Fire Local Questions:
What is your favourite local restaurant?
Hoai Huong on Victoria Avenue. I love their food and they're always sweet when we go.
What is your favourite street in your city and why?
That's hard because I'm horrible with names. I know I have a soft spot for Ste-Anne in Pierrefonds because I grew up there as a kid.
What is your favourite park in your city and why?
Mount Royal easily. I've been going since I was a kid. It just reminds me of simpler times and I always go with my family so there's just a warm feeling to me when it comes to that place.
What is your favourite music venue in your city?
We've played Petit Campus. My Favourite to go to, MTelus. Sound is always incredible and it's big while still being intimate.
What is your favourite music store in your city?
Super bias answer, Long & McQuade Vaudreuil. I work there as does Marc-Olivier, our bassist. I literally work with my friends and it's just a massive store and we have sweet gear and a nice open concept. Our guitarist used to work there too for a bit before opening his own guitar shop in Joliette called Boreal Guitars.