TEKE::TEKE is a Montreal-based Japanese psych-rock group composed of guitarists Serge Nakauchi Pelletier & Hidetaka Yoneyama, bass player Mishka Stein, drummer Ian Lettre, flutist Yuki Isami, trombone player Etienne Lebel, and visual artist and vocalist Maya Kuroki.
Featuring traditional Japanese instruments, flute and trombone alongside raging guitars and a pulsing rhythm section, TEKE::TEKE creates a sound reminiscent of 1960's and 70's era psychedelic Japanese soundtracks, with a frenetic, modern twist.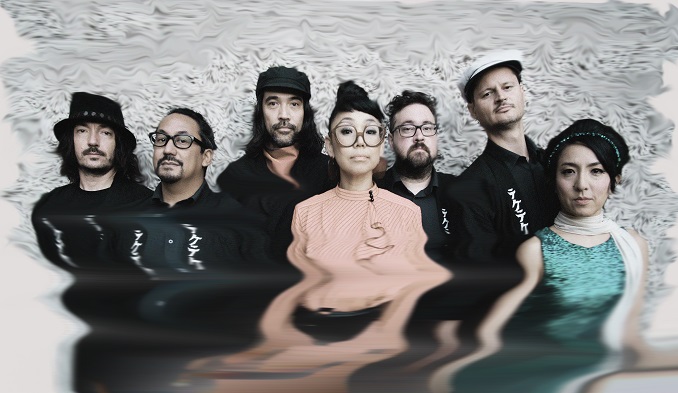 Name:
Sei Nakauchi Pelletier / TEKE::TEKE
Genre
Japanese Post-Psych-Art-Rock
Founded
2017
# of Albums:
2 / 'Shirushi' (2021) / 'Hagata' (out June 9th, 2023)
Latest Album:
'Hagata' (2023 / Kill Rock Stars records)
Latest Single:
'Garakuta'
Latest Video:
Favourite musician growing up:
Musician… mmm, Stevie Wonder
Favourite musician now:
Musician… mmm, Stevie Wonder + all the local musicians mentioned below.
Guilty pleasure song:
Toy Soldiers by Martika
Live show ritual:
At least an hour before going on stage, I'll stretch, then I like to get my heart pumping and my blood flowing so I'll do some cardio exercises like jumping jacks and/or run up and down a set of stairs, sometimes even jump ropes (yes, I always bring a jumping rope on tour) or do some boxing drills, especially footwork. As I do that, I'll do some vocal warm-ups as well.
Favourite local musician:
Oh, I can't name only one, there are too many amazingly talented and inspiring musicians I look up to in this city… Rainer Wiens, Sam Shalabi, Yves Lambert, Jerusalem In My Heart, Ben Charest, Robbie Kuster, Voïvod, Suuns, Backxwash, Julien Sagot, Malcolm Bauld, Kee Avil, Big Brave, Tamayugé, Paul Jacobs…
EP or LP?
I like them both and I think they should both exist.
Early bird or night owl?
Generally speaking, if it's to get work done, I like the energy of mornings and keep the nighttime for relaxing and get inspired.
Road or studio?
Both. I'm always excited to go back in the studio after some touring and I feel the same way about hitting the road after being in the studio for a while.
Any shows or albums coming up?
Our new single 'Garakuta' just came out and our new album 'Hagata' will be released on June 9th, 2023 via Kill Rock Stars. Also, please be on the lookout for show dates as we will be touring Canada and the US in the spring and summer.
Where can we follow you?
Website | Instagram | Facebook
***
Rapid Fire Montréal Qs
What is your favourite local restaurant?
Bistro Furusato, who just (re-)opened in a much nicer area. Hands down the best and most authentic Japanese food you can eat in Montreal.
What is your favourite street in your city and why?
Strangely perhaps, it would be the overpass just west of St-Denis, where it's a sort of transition between Rosemont Street and Van Horne. When you walk there and stop midway, you get in my opinion, one of the best views of Montreal. I really enjoy the different perspective lines and I like how in a glance you can see the Mount-Royal, the St-Joseph Oratory, the Mile-End area with the St-Michael's & St-Anthony's church, the train tracks, and some old factory buildings. On a clear summer evening when the sun sets, with the sounds of skateboards hitting the concrete of the skatepark underneath, it's pure poetry.
What is your favourite park in your city and why?
I'd say probably Mount-Royal Park, especially in the fall when the trees are colorful, and because there's a bit of everything there, it's a mountain, there's some woods, a lake, and many great spots where you can get different views of the city.
What is your favourite music venue in your city?
I love the vibe of older buildings like Le Rialto or La Tulipe but I really enjoy the intimacy of a place like Bar l'Escogriffe or Casa Del Popolo.
What is your favourite music store in your city?
There are lots of great ones but my go-to for years have been l'Oblique.