WomenAware supports, inspires and empowers survivors, as well as having the goal to prevent and end conjugal violence. We got the chance to chat with volunteer and member of their board, Shennel Hunte, to find out more about them.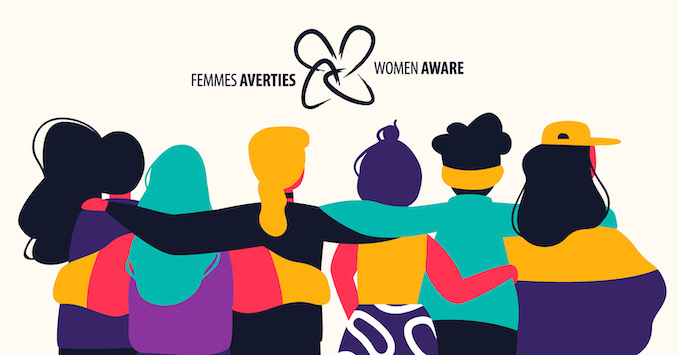 Describe your charity/non-profit/volunteer work in a few sentences.
WomenAware is a non-profit, community-based centre, which was founded by survivors of conjugal violence. Our mission is to support, inspire and empower survivors, as well as striving to prevent and end conjugal violence. We offer emergency hotline services, 1 to 1 peer support (all our volunteers have lived experience with conjugal violence), group support, and provide assistance to those looking for legal advice, emergency shelter stays, and any other issues arising from being in a violent relationship. Our main goals are to shift silence to communication, despair to hope, fear to courage, shame to pride, victim to survivor, and survivor to mentor.
What problem does it aim to solve?
WomenAware aims to solve the prevalent problem of conjugal violence.
When did you start/join it?
I started volunteering with WomenAware in March 2020 as a peer support volunteer. In June 2020, at our AGM, I was nominated to join the Board of Directors, and have been on the Board since.
What made you want to get involved?
I wanted to get involved primarily because I had a burning desire to help other survivors. I wanted to be who I needed in my corner, when I was going through my abusive relationship, and after I had left. Even though I left 8 years ago, it is something that will be carried within your psyche forever. I felt that at this point in my life, with my career and financial stability, I had time to give, and wanted to make a difference, using my strengths and experiences.
What was the situation like when you started?
Shortly before I started, WomenAware had suddenly lost its founder and our community lost a wonderful soul, June Michell. Then, with COVID hitting, the admin work was disorganized, backlogged, and we were locked out of many of our accounts. We had an interim Director, who onboarded new volunteers, myself included, and we were all trying our best with the time we could give to smooth things over, while dealing with the influx of hotline calls due to folks being stuck at home with an abusive partner during the lockdowns.
How has it changed since?
We now have a powerhouse Director, Eva Gourdji, who has been instrumental in getting WomenAware back on its feet. We have a wonderful Volunteer Coordinator, Amy Kaufman, who has onboarded many new volunteers of all ages, who are all eager to help. We have an amazing Board of Directors, which has facilitated the formation of new committees, including Communications (awareness through social media) and Prevention (planning workshops for schools, colleges/universities, police stations).
What more needs to be done?
In terms of what needs to be done to combat conjugal violence, I would like to mention three main action points:
1) Education. For all genders, and all ages. Children learn what they live. It is our responsibility as adults to teach our children how to treat other human beings, regardless of gender, sexual orientation, and race. The big question is always why didn't she leave, when it should be why is he abusing her, and we want to change this rhetoric, through education about the many forms of conjugal violence, and how to identify and stop the cycle.
2) Funding for centres like WomenAware, and women's shelters. Despite the government's best efforts, and especially due to Covid, shelters have been overcome with clients, wait lists for shelter accommodations are dangerously long, and employees/volunteers are feeling burned out. And last but not least,
3) Accountability. Our justice system is not made to protect survivors of abuse and violence. Police do not have adequate training on how to handle these situations. The court system has been known to add to the trauma, instead of alleviating it. Reform is needed, from the top down, if we want to see real change.
How can our readers help?
What survivors need most is empathy and support, since most survivors feel extremely isolated by their abuser. If you know someone who is in an abusive relationship, make your presence known to them. Let them know you will be there, should they need help, or someone to talk to, and follow through without judgment, if they come to you for help.
If you have lived experience, and are emotionally able to volunteer as peer support, please contact WomenAware, or any other women's centre in Montreal.
Financially, WomenAware, along with many other organizations accept donations, so we can keep our organization running, and continue helping those in need.
Do you have any events coming up?
We had our 16 Days of Activism Against Gender-Based Violence that started on November 25th. That was a collaborative initiative with our Partners, and included free virtual workshops on various topics, with our main virtual Round Table event on December 9, from 11-1 entitled Femicide in Quebec – Reflecting on our Past & Present Fight for a Future Without Gender-Based Violence. All events and workshops are free, virtual, and open to the public.
Where can we follow you?
You can follow us on LinkedIn and Facebook (WomenAware/Femmes Averties), and on Instagram for more information about us and upcoming events.
PAY IT FORWARD: What is an awesome local charity that you love?
Shelter Movers is made up of a growing team of dedicated volunteers helping to ensure an immediate and lasting impact on survivors in the community. The amazing team realized how difficult and dangerous it can be for survivors attempting to leave their abuser, so they developed a survivor-centred, free moving service to fill a critical gap for people leaving abuse. Shelter Movers' unique volunteer-based service is the only one of this kind in Canada.