MicroHabitat is a Montreal business that transforms unused spaces into urban farms. We spoke with Orlane Panet, Co-Founder, to find out more about them.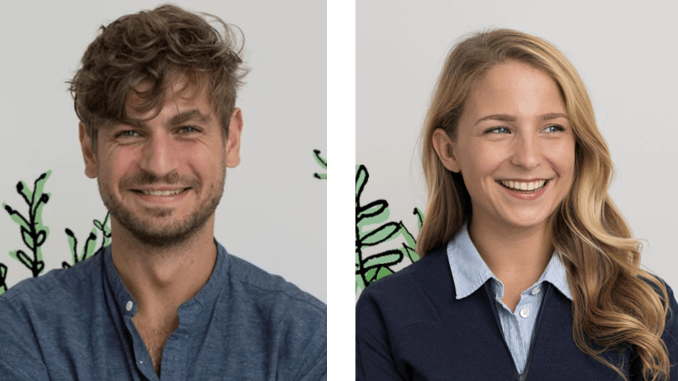 What is your business called and what does it do?
MicroHabitat's mission is to bring change to businesses and institutions by transforming the cities' unused or underutilized spaces into urban farms.
What made you want to do this work?
Having studied environmental and agricultural science, our founder Alexandre Ferrari-Roy felt that there was a disconnect between what we consume and how we grow our food so he decided to focus his energy on efficient solutions that could bring immediate sustainable change.
For MicroHabitat, it is essential to make people appreciative of nature, so they can internalize the vital importance of protecting it. Spreading the word about ecological urban farming is an integral part of what we bring to the table. It's also a priority that our work can benefit communities in need, by fighting food insecurity, a growing phenomenon that is increasing in urban centres.
What problem did you want to solve with the business?
These initiatives contribute to the greening of spaces, create local, ecological and resilient food systems, help support local communities, encourage biodiversity in urban areas and bring legitimate solutions to climate change as urban farming has the power to reduce the heat islands and the risk of flooding. This practice has a lower impact on the environment because it is more sustainable.
Who are your clientele/demographics?
MicroHabitat's clientele is players in the residential, commercial, and industrial world. MicroHabitat gives its clients the possibility to have access to ultra-local and healthy food, grown and harvested directly on-site, or donate the produce to a local charity of their choice.
How does your business make money? How does it work?
We offer a turnkey service that includes the installation, maintenance and harvesting of the food production farm designed and built for our clients. Our service is membership-based, and most of our clients are recurring clients. Urban farming has long-term benefits, and in order for our clients to reap those benefits, it is crucial that projects are developed on a long-term basis with them.
Where in the city can we find your profession?
Founded in Montreal and now with operations in Toronto, Vancouver and soon New York, you can find our urban farmers on city rooftops or empty ground spaces, growing and harvesting our veggies in a spirit of giving back to the community.
What is the best question a prospective customer could ask a member of your profession when comparing services? Give the answer as well.
Question: So what do you do with the produce you grow, do you sell it?
Answer: We grow with you and for you. You are buying into a fully managed and operational farm so the produce is yours) in comparison to Lufa or an equivalent organization.
What is the best part about what you do? What is the worst part?
The best part is to see the social impact we have in communities. It's so gratifying to be greeted with big smiles when we donate our harvests. We have worked hard to develop this turnkey service and to receive such positive feedback, gives us the motivation to continue the work and expand further.
Having to deal with the Covid Crisis, being confronted with the new challenges that arise from this new global situation, and seeing the devastating effects it had on the stability and safety of our society.
What is your favourite joke about your own profession?
-What do you get when you cross an urban farmer with some trendy headphones? Beets by Dre.
Where can we follow you?
Website | LinkedIn | Facebook | Instagram | Twitter
What is another local business that you love?
Our beloved partner Alvéole! They offer complimentary services to ours. They help businesses, schools, and various organizations meet their engagement and sustainability goals by bringing bees to their building.