Rose Buddha is an eco-friendly athleisurewear brand made by women, for women. We spoke with Maxime Morin, co-founder of the brand, to find out more about them.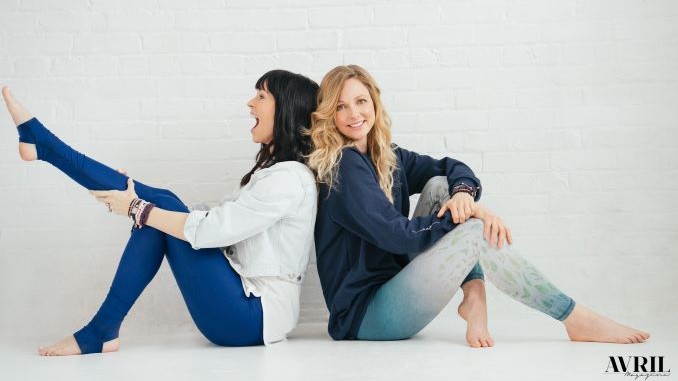 What is your business called and what does it do? 
Rose Buddha is an eco-friendly B corp certified company that encourages women to slow down and take care of themselves with clothes and products designed for our well-being.
What made you want to do this work? 
Rose Buddha was created to offer an eco-friendly and ethical option in the athleisurewear world to help reduce the fashion industry's carbon footprint. So you can wear clothes that make you look and feel good and also create good in the world. As mothers and yoginis, Madeleine and I wanted to create a business that would respect the environment and the people. We want to change how things are done.
What problem did you want to solve with the business?
We offer a beautiful, soft, comfortable, timeless, AND eco-friendly option to other big athleisure wear brands. Second, only to oil, the textile industry is the worst culprit in global pollution. So we decided to use only recycled or eco-friendly materials. Our leggings are made up of recycled plastic bottles. Our line of basics is created with highly eco-friendly natural fibres, such as organic cotton and Tencel. We are zero waste and we plant trees with Canada Tree.
Who are your clientele/demographics?
We are a women-owned company, and we create products for women's bodies. Every piece is created with what it means to be a woman, in mind. We want our clients to feel beautiful and comfortable in their Rose Buddha clothes. We offer pieces you can wear from the yoga class to happy hour or picking up your kids to daycare.
How does your business make money? How does it work?
90% of our business is online. Also, we are in many yoga studios, boutiques, and stores across Quebec.
Where in Montreal can we find your profession?
You can discover Rose Buddha online at www.rosebuddha.com
What is the best question a prospective customer could ask a member of your profession when comparing services? Give the answer as well.
Why should I try Rose Buddha?
When you start wearing Rose Buddha, you don't want to wear anything else, our items are a perfect mix of timeless and trendy. Every piece of clothes is so multifunctional and comfortable, you will fall in love.
Why is it "expensive"? 
We love and respect all people. We stand behind the principle that we are all interconnected and that behind every product, there's a person. We love to know every person involved in each link of our production chain. We treat them as we would wish to be treated, the majority of our production is made locally and people are paid fairly.
What is the best part about what you do? What is the worst part?
When I see someone on the street, wearing a piece of our clothes, it is the best feeling ever. Also, we are so happy when we get an email from a client saying that they fell in love with Rose Buddha and our values.
What is your favourite joke about your own profession?
Because we make leggings and yoga-inspired goods, sometimes people think that we are super zen and that we spend our days burning incense and meditating. We are normal moms and entrepreneurs and yes sometimes we are upset, tired, or stressed out.
What are your social media channels?
We are on Instagram and Facebook
PAY IT FORWARD: What is another Montreal business that you love?
We love Maguire, they make amazing footwear.