Nvizion Media is a Montreal-based digital marketing agency specializing in social media management, content creation & influencer marketing. We spoke with their founder, Alicia Waid, to find out more about them.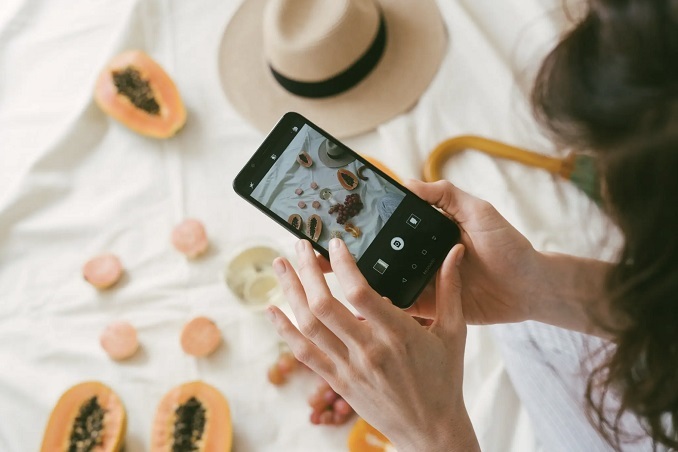 What is your business called and what does it do?
My business is called Nvizion Media and we're your one-stop shop for all things social media. We offer everything from monthly management, to content creation to one-on-one coaching.
What made you want to do this work?
Social media has been something I've been very passionate about over the last 7-8 years. I have always been a very creative person and have shared parts of my life on social media since way back when Tumblr was the main social media platform. This field also allows me to work with so many different companies – although the routine remains the same, each client brings a different product or service to the table and it keeps my job very diverse and interesting. For each project; each client is something new.
What problem did you want to solve with the business?
Social media is the current and future of marketing and is rapidly changing week to week. We understand that businesses don't have the time to keep informed and to dedicate their time and energy to building an effective social media strategy (and shouldn't have to). That's where we come in to help.
Who are your clientele/demographics?
Our demographic is smaller businesses within the lifestyle niche with limited resources. Our clientele for monthly clients are Montreal and Toronto-based. However, when it comes to our coaching clients because everything is done over Zoom/online, we are able to take on clients from all over the world.
How does your business make money? How does it work?
There are 3 main ways Nvizion Media makes money, and I've listed them out below with more details:
Monthly Management: Monthly management includes creating a content calendar, creating an effective hashtag and engagement strategy for each client as well as scheduling, DM management, spam removal, and growth strategies. We essentially take over your account and take care of everything for you.
Content Creation: Creating content is another way we make money at Nvizion Media. This includes photoshoot services (in person, or product photography), videography services (in person, or product videography), and graphic design.
Coaching: Our coaching services are for people who don't necessarily want to pay someone to manage their social media channels, but also don't know how to start, where to rebrand, or what strategy to focus on. In these 1 on 1 session, together we help you craft and perfect a strategy that will ensure your success on social media. We feed you the information you need in order to succeed, and then you go and do it yourself.
Where in Montreal can we find your profession?
We are a "WFH" (work from home) agency, so although we don't have a physical location, you can easily contact us at info@nvizionmedia.com to schedule a Zoom or phone call. You can also contact us directly through our website.
What is the best question a prospective customer could ask a member of your profession when comparing services? Give the answer as well.
"How do you differ from other social media agencies?"
Answer: Many agencies will take on clients and keep the relationship at arm's length. Although we are the experts in the field, it's important for my agency to work closely with my clients and help them understand every part of the process. It's their company, after all, and Nvizion is simply here to grow & strengthen its social media presence/strategy. Instead of seeing them as simply a client, we see each company we sign as a partnership.
What is the best part about what you do? What is the worst part?
Best part: Helping smaller companies get the recognition they deserve and educating clients on how powerful social media truly is as a marketing tool when used correctly.
Worst part: Sometimes clients don't understand that social media is a long-haul game and results don't happen overnight. It can be frustrating for the client to see slow progress, but it's important for us to communicate that their expectations are sometimes unrealistic.
What is your favourite joke about your own profession?
That it's not a "real" job. You have to learn to laugh it off. Many people don't understand how much work goes into doing social media full time and staying consistent.
What are your social media channels?
PAY IT FORWARD: What is another Montreal business that you love?
SOJA&CO: They make handmade candles that are fabricated in Montreal with 100% natural soy wax.
Florence Café: A local coffee shop in Pointe-Saint-Charles with wonderful staff and coffee.
The Finer Cookie: They bake delicious gourmet cookies as well as create thoughtful gift boxes.
Alpine North: A vegan, sustainable and cruelty-free brand with the warmest yet chic outerwear.