Black Healing Centre (BHC) is a non-profit organization providing mental health supports and resources to Afro-descendant people in Montreal. Some of the services provided are subsidized group and individual therapy, for example. We spoke with founder and programming director, Samanta Nyinawumuntu, to learn more about the ways in which BHC tackles the barriers that the Black community faces when trying to access mental health services in the city.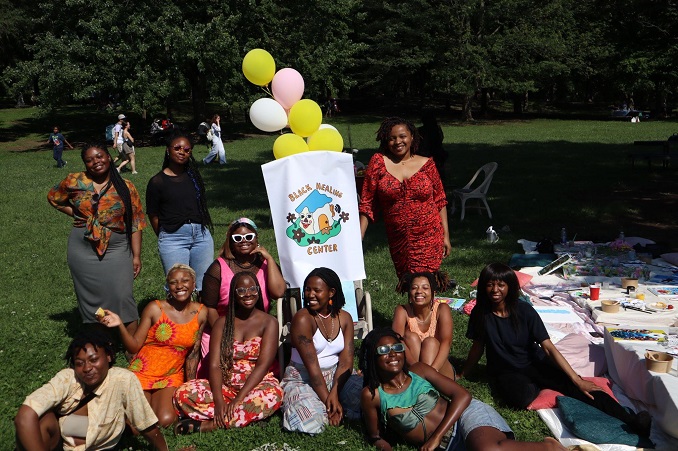 Describe your charity/non-profit/volunteer work in a few sentences.
Black Healing Centre's goal is to provide an accessible space for intergenerational, culturally relevant, and afro-positive mental health care. BHC's core mission is to create an accessible and safer space for Black people to gather, connect and heal. Our intention Is to create an Anti-oppressive, Anti-racist community hub where people of African descent feel seen, heard and supported.
What problem does it aim to solve?
The first gap that the Black healing Centre aims to fill is the lack of culturally competent practitioners. The BHC will address this by employing and providing space for various Black mental health practitioners to utilize. This will be a safer space for Black Montrealers who are seeking or need mental health support and wish to interact with a Black practitioner. Having a Black-led and run healing space will also help decrease stigma around seeking mental health care for Black individuals who have lost trust or have been mistreated by the healthcare system.
The second barrier that the BHC aims to address is the lack of availability and range of mental health services for Black Montrealers. The services and treatments in the mental healthcare system are generally Western and Eurocentric. This has at times discouraged individuals from seeking mental health services and has hindered their healing and recovery journeys. The Black Healing Centre aims to address this barrier by providing group therapy to Black Montrealers.
The last gap that the BHC is targeting is the financial burden, the average therapy session in Canada is $80-$200. As a result of anti-Black racism and discrimination in the job market, most Black people still live in low-income households and cannot afford to see a therapist. We aim to alleviate this burden by providing subsidized individual and group therapy sessions with specialized Black mental Health professionals to ensure that no one is turned away for lack of funds.
When did you start/join it?
I started the Black Healing Centre in June 2021.
What made you want to get involved?
The Black Healing Centre comes from my negative experience with trying to access mental health support within the Montreal community. I knew I was not alone and wanted to create a space where Black healing was prioritized.
What was the situation like when you started?
Before the Black healing Centre conversations around Black Mental health in the Black Community were limited. There was a lack of organizations whose primary goal was to advocate for the wellbeing of Black Montrealers.
How has it changed since?
Since we started in June of 2021. We have produced a documentary called by Black Mental Health, we currently offer 4 services; Collectie Care Circles for Black Women and Men, Creative art therapy for Black youths, healing Through Art Days and group Cognitive behaviour theory.
There are also more Black-led organizations around Montreal that are working towards advancing the well-being of Black Montrealers which is great because the more organizations and people they advocate for Black mental health the more people we are able to serve in our various communities.
What more needs to be done?
A lot. There needs to be more funding to support the wellness of Black people, including Black Mental practitioners.
How can our readers help?
Donate to the Black Healing Centre! Your gift will go towards appropriately compensating Black mental health Care workers, and facilitators for their labour.
Do you have any events coming up?
Yes, we have a Black Wellness Summit coming up in February 2023. Please follow our social media channels and sign-up to our newsletter to know when sign-ups open.
Where can we follow you?
Instagram | Website | Youtube | Facebook
PAY IT FORWARD: What is an awesome local community organization you love?
Black Healing Fund is a volunteer-run initiative based in Tio'tia:ke / Montreal that seeks to provide Black people in the area with discretionary funding for therapy and other mental health-focused resources.