L'Annexe is a diverse, LGBTQ-affirming Jewish social service and community space. At L'Annexe, young adults can access education and employment services, participate in wellness and skill-building workshops, attend special events and social groups, and receive one-on-one support. We had the chance to catch up with Manager Lanya McClintock to find out more about what they do.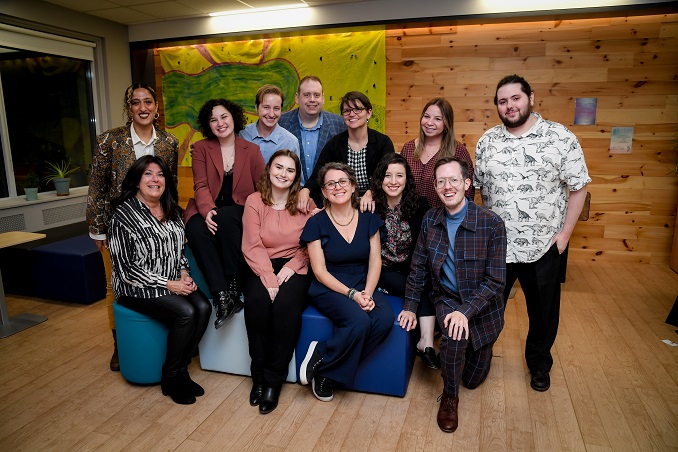 Describe your charity/non-profit in a few sentences.
L'Annexe is a diverse, LGBTQ-affirming Jewish social service and community space open to everyone aged 16 – 35. We are the young adult centre of Agence Ometz, a Jewish human services agency offering social, employment and immigration services to help people fulfill their potential and to secure the growth and vibrancy of the Montreal community.
L'Annexe is located on the 2 nd floor of the Sylvan Adams YM-YWHA in Côte des Neiges. At L'Annexe, young adults can access education and employment services, participate in wellness and skill-building workshops, attend special events and social groups, and receive one-on-one support.
What problem does it aim to solve?
At L'Annexe, we collaborate with young adults as they build autonomy, engage in community, and discover their unique vision of wellbeing. Our centre is designed so that young people can choose from a diverse array of programming and participate in the activities and services that support them in reaching their own goals. This means that we have something to offer all young adults: whether you are CEGEP student wondering if the educational path you've chosen is right for you; a teen hoping to score your first job; a youth experiencing anxiety in coming out to your family; or a young adult who just moved to Montreal and is looking to engage socially with a diverse community. Our goal is that any young person who walks through the door feels welcomed and included,  exactly as they are.
When did you start/join it?
I started as the manager of L'Annexe in January 2021. I moved to Montreal with my family in August 2020 and had my heart set on working at Ometz (more on that later!). At the time, Ometz did not have any openings, so I became a client of the Ometz Employment Department and was matched with a fantastic Employment Specialist. When the L'Annexe position opened up, I jumped on it!
What made you want to get involved?
I am originally from New York but spent more than 20 years living and working in California and Oregon. Because I had worked at Jewish Vocational Service in San Francisco, I learned about Ometz through a network of Jewish human services agencies across North America. My passions have always been to support the mental health and well-being of youth and families, to welcome immigrants, and to provide people with opportunities to secure meaningful employment. When I learned that the mission of Ometz encompassed all these things, it seemed like a perfect fit! Being involved with L'Annexe is a true honour – I get to be involved in the areas of service that I am most passionate about and I have the privilege of serving the age group that I love working with most: young adults!
What was the situation like when you started?
When I first started at L'Annexe in January 2021, the centre had been "open" for a bit more than 9 months, but this was during the height of the pandemic, so being "open" meant all our services and programs were taking place online. We were not yet able to offer the full extent of wraparound programming and community engagement opportunities that had been envisioned for our newly
renovated space.
Our young adult clients, as you can imagine, were struggling and feeling isolated, as were many of our staff. Because we were in survival mode, we didn't have the opportunity to properly celebrate the opening of L'Annexe or to launch the new programs and services that the team had dreamed about. We went through several fits and starts of trying to launch a new centre and in-person services, as public health regulations loosened and then tightened again. It was a time of learning, for sure.
How has it changed since?
Now, we are thrilled to be fully in-person and welcoming young adults to our sunny, open-concept space every day, Monday through Friday. We still offer group and individual services online, as needed, but we are happy that our community is excited to interact in person and that the centre is thriving. Our drop-in community space is open Tuesdays – Thursdays. Young adults can come to grab a cup of coffee, have a quiet place to study or connect with friends. We host regular evening events and workshops 3 days a week and celebrate community with a monthly dinner prepared by L'Annexe staff and members. Each month, we are sure to include skill-building opportunities (cooking workshops, job search assistance, etc.), creative workshops (painting, baking, jewelry making, etc.), and social gatherings (Dungeons and Dragons, movie nights, etc.). As well, we host 3-4 sessions of creative arts therapy groups each year (music therapy, drama therapy, etc.).
Another amazing aspect of the past two years has been the opportunity to collaborate with partners such as Aire Ouverte, Concordia University, Moishe House, McGill University, and the Writers Collective of Canada. Working together with others whose missions align with ours broadens opportunities for the young adults in our community. There is a lot going on at L'Annexe and we are inspired by the enthusiasm we see among the young people who come to our centre.
How can our readers help?
We are currently looking for volunteer tutors to work with students in our GED program on Tuesday and Thursday evenings. This program prepares young adults to pass the high school general equivalency exam so that they can expand their options for future education and/or employment. Readers can also help by making a gift to Ometz.
Do you have any events coming up?
Among the many events we have planned for February, we are most excited to be hosting a multigenerational art exhibition, in partnership with Ometz, the Cummings Centre, ALink, the Sylvan Adams YM-YWHA, and Moishe House, to celebrate Jewish Disability Awareness, Acceptance and Inclusion Month (JDAIM). On Wednesday, February 15 th, artists from around Montreal will be displaying their pieces inspired by this important month. We invite anyone reading this article to attend. Click here to find out more about the event.
Where can we follow you?
Facebook | Instagram | JLive | Website
PAY IT FORWARD: What is an awesome local charity that you love?
Project Genesis, a local non-profit organization founded by the Jewish community of Montreal, supports all residents of Côte-des-Neiges in facing and resolving difficult challenges, including housing problems, basic income security, and access to healthcare and other government. I love this organization's focus on the values of social justice, equality and non-discrimination, and empowerment. Their commitment to social change and community organizing is inspiring!