Sankofa Cooperative is a collectively run non-profit organization based in what is colonially known as Montreal, also known as Tiohtià:ke. They are a Black-Indigenous Queer agricultural cooperative. Their mandate is secure space to build a farm and become the first Black Urban Cooperative farm on the island. This is done in the hopes of making food sovereignty, farming, skill-sharing and healing more accessible to Afro-descendant individuals in the city. We spoke with the entire Sankofa team to learn more about this cooperative.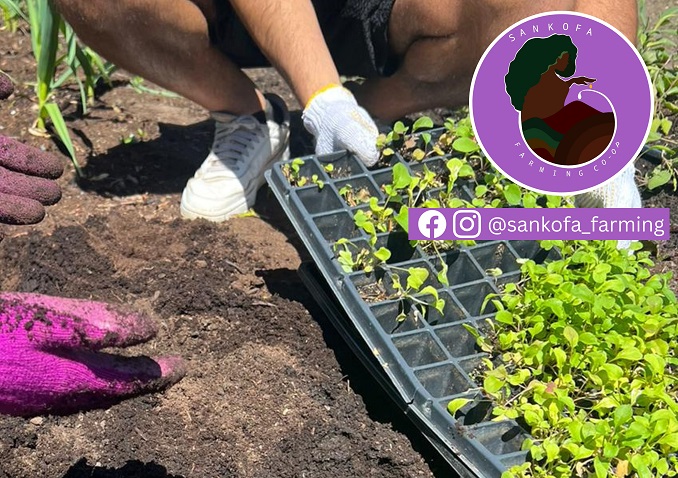 Describe your charity/non-profit/volunteer work in a few sentences:
The Sankofa farming cooperative is calling on Africans/Afro-descendant/Black-Indigenous peoples to reclaim and seek the wisdom of their roots through teach-ins, workshops, media projects, Black-Indigenous farming/gardening, storytelling and rituals.
Right now we're in the beginning stages of working towards all of the above, so educating ourselves, working on the land, and building connections and community for this project.
What problem does it aim to solve?
Black and Indigenous peoples disproportionately face the detrimental impacts of land theft, lack of access to land, food apartheid neighbourhoods, diet-related health problems, and food- and farm-worker exploitation. We want to combat and work towards a solution for these issues.
We want more diversity and inclusion of racialized people and the reappropriation of our foodways and to start we aim to secure space to build a farm in Tiohti:áke, in hopes of making farming, learning, healing and community more accessible to these groups of people. We yearn to work towards our long-term goal of food sovereignty for our communities.
When did you start/join it?
We had our first meeting in August 2022.
What made you want to get involved?
Building connections with students and community members with the same concerns and desires to work together towards one or all of the many things we wish to achieve with this cooperative, big and small. Our joint longing to see our communities thrive and be healthy, in body and in mind.
What was the situation like when you started?
We didn't have access to land yet or an idea of how everything was going to go in terms of support and acceptance.
How has it changed since?
In September 2022, Sankofa was granted access to part of the CultivAction farmland located on the Loyola campus, so we've been working a lot more with the Concordia food groups and have received quite a bit of love and support from the community.
What more needs to be done?
We're hoping to see more accessible community gardens that provide for BIPOC communities, as well as education about these initiatives and self-sustainability in our communities, especially in areas facing food apartheid
How can our readers help?
By seeking out and supporting Black and Indigenous farming groups and groups with similar goals as ours, and by following and supporting our social media and GoFundMe.
Do you have any events coming up?
Right now we are inviting volunteers to join us every Thursday between 2-4 pm on the Concordia Loyola campus starting June 8th. We spend our time there tending to the land and doing farming work growing herbs as well as medicinal plants and flowers.
Where can we follow you?
PAY IT FORWARD: What is an awesome local community organisation you love?
Hamidou Horticulture, Peoples Potato and Coop Cultivaction.