James Mancini is a Quebecois-Italian who has an extremely interesting past and breakthrough into the world of comedy. He was a professional wrestler for Team Canada, a 7-time Canadian championship wrestler, a two-time World Challenger in MMA, and a 2010 Commonwealth Games Silver Medalist representing Canada in New Delhi, India. All of the experience in the ring brought James to be a live commentator for MMA and amateur sports, so he was very comfortable on the mic. Close friend Paul Baluyot introduced him to his first open-mic stage, and from that point forward, James hasn't looked back. Now a restaurateur and live performer with a multitude of outlets for his comedic stylings, we got the low-down on what James has been up to in the heart of his city and beyond.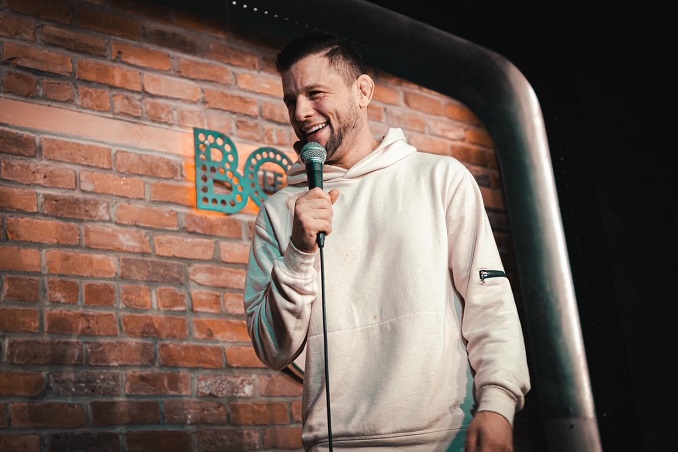 How would you describe your comedy style?
I have a very high-paced & high-energy style. I try to bring everything I learned in mixed martial arts to the stage if that makes any sense.
Who are some of your influences?
Andrew Schulz is someone that I try to stylize my performance like. He is someone who is also high energy and silly, but smart, with tons of clever punchlines. Also, I would be hard-pressed if I didn't admit to being cliché but… Joe Rogan. He's someone who also does MMA commentary like myself, and, of course, podcasting – a long-time standup comedian, he just branches those niches together so nicely.
Who was your favourite comedian growing up?
Growing up I loved Dave Chappelle and Russell Peters. I could watch their sets over and over again, and recite much of what they were saying.
Who is your favourite comedian now?
My favourite comedian today is the same as it's always been though and that is Richard Pryor. Whenever I need inspiration, he's someone I could always go watch with his standup special Live on the Sunset Strip.
What is your pre-show ritual?
Oh, geez! This is gonna sound strange, but I'd like to warm my body up physically as I would before a fight or a wrestling match so sometimes you'll catch me doing jumping jacks or stretches. Sometimes I'll even shadowbox.
What is your favourite place you have performed? Why?
Absolute comedy club in Ottawa is just fantastic. They always bring great crowds. The room is fantastic and the people are so attentive. The Comedy Nest and the 3rd Floor Comedy Club here in Montreal are very close seconds.
What is your favourite bit you have written and why were you proud of it?
Recently I wrote a bit about a strange Groupon I received, and I really like it because I get ads in elements of my fighting days, such as a good friend of mine, Georges St Pierre.
What is your favourite medium for listening to or finding new comics/comedians?
Currently, in Montreal, I'm performing a lot for Mtl Comedy Club. Also producing a show with them on a monthly basis. There are so many great comics that come through there. On any night of the week, you can see so many great comics, so even if I'm not performing, I'll go watch one of those shows and it's very easy to find top-level comics as inspiration.
Tell us a joke about your city.
The potholes and construction here are as sure as death and taxes. Buckle up. They'll both take you for something unexpected.
Do you have anything to promote right now?
Sunday, August 27th I am running a comedy show in my restaurant, Mauvais Garcons, along with Mtl Comedy Club as part of the Montreal Comedy Series Festival. Mauvais Garçons features great local comics in Griffintown, as well as dinner. Other than that, if you follow me on my socials, including my Instagram and all of my reels, you're up-to-date with everything I've got going on. Don't forget to check out my YouTube channel where we feature man-on-the-street interviews where we get hilarious interactions with Montreal's nightlife community.