Carrie MacPherson, also known as @eatdrinkbcarrie on Instagram, is a lifestyle blogger based in Montreal that chats about her favourite things from fashion & home décor to food, cocktails and travel. With around 10 thousand followers on Instagram and a peak of 53k views on her Youtube videos, she brings lifestyle blogging to her audience. We recently had a chance to catch up with her to learn more about her content and future plans as a content creator.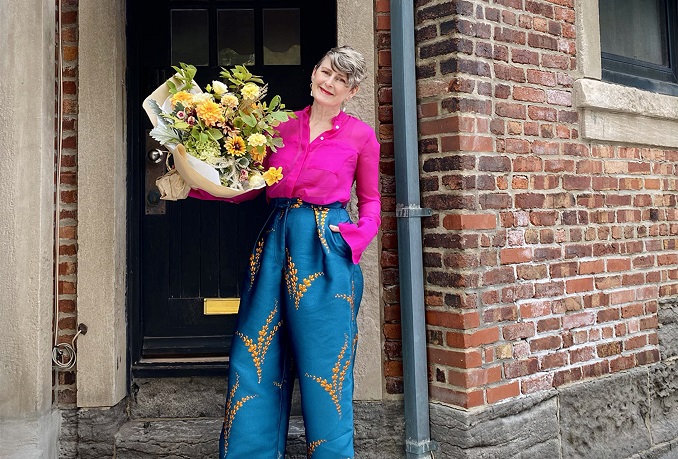 What is your blog called and what is it about?
I have a blog called Eat, Drink & Be Carrie, it's a lifestyle blog about my favourite things from fashion & home décor to food, cocktails and travel
When did you start it? What motivated you at the beginning?
Originally, I started an online platform for women in French called Zurbaines (urban women) where I recommended new and favourite places I liked in Montreal from restaurants and bars to spas and boutiques. That was launched in 2007 with two other women. After many years and multiple partner changes, I ended up being the sole owner in 2016 and decided to turn it into a personal blog and that's when I changed the name to Eat, Drink & Be Carrie
Who were you inspired by? Any influences?
In 2007 we were inspired by a website that no longer exists, it was called DailyCandy and was based in New York. The concept was a daily newsletter that went out to readers informing them of what was new and cool in the city. My website started out very similar, but nowadays I mostly share my finds on Instagram as stories, posts or reels
How would you describe your audience?
My audience is mainly female and still mostly based in Montreal. Their ages range from 25-65.
What is your creative process? Do you have people who work with you?
I work mostly on my own. My background is in photography, so I usually take my own photos for my content. Occasionally, I will have a friend or fellow photographer take photos of my outfits, especially for fashion collaborations.
How do you monetize your content? Do you also have another job?
Sometimes brands or businesses reach out to me to collaborate on Instagram through sponsored posts. I create the content and they are able to repurpose that content on their own platforms. I also create content for a Montreal fashion boutique. I photograph the clothing or create videos and then share daily on their social media accounts.
What is your favourite piece of content you have created?
I don't post a lot of videos to my YouTube channel simply because there is a lot more work involved in filming and editing, but in 2020 (when I had a lot more time on my hands), I edited a video of me and a local textile artist installing her wallpaper in my powder room. We both like the Roaring 20s and my house is a carriage house built in that era, so we decided to dress up as flappers to install the wallpaper and then I edited it like a silent b&w movie. I think it turned out well. You can find it here.
What is the best part about what you do? What is the worst part?
The best part of being an influencer/content creator is working from home and on my own terms and schedule. Other perks are that you are usually the first to discover new things and are often treated like a VIP. Which all seems very glamorous and desirable, but in the end, there is a lot of work behind the scenes with editing and sharing content that is not-so-glamorous and the amount of time I spend on my devices is perhaps the worst part of doing what I do.
What are your future plans for your channel?
For the moment, I will continue to post my favourite things, such as home décor, entertaining and vintage finds. My followers seem to enjoy those posts the most.
Where can we follow you?
You can follow me on Instagram (where I am most active), or visit my Blog, Facebook, YouTube, TikTok, and Pinterest.
PAY IT FORWARD: What is another Canadian content creator that you love?
Recently, I have really been enjoying following Renée Kohlman or, @sweetsugarbean on Instagram. She's a food columnist for Saskatoon's Star Phoenix and has written two cookbooks. She shares a lot of delicious and comforting recipes on her Instagram and I've even cooked up quite a few of her recipes. I discovered her while visiting my folks in Regina as I was looking for a recipe for flapper pie! We even had the chance to meet last summer at the Saskatoon Farmers Market where she often has a table to sell her baked goods.