Deanne Matley, a Montreal-based vocalist, is known for singing contemporary jazz with a sensual style and a stunning emotional range and developing a deep connection with her audience. She has made a name for herself across Canada and beyond with her dynamic performances with combos of all sizes and albums ranging from standards to pop Christmas favourites. She is an emotional vocalist with an eclectic repertoire. Deanne has toured famous clubs and festivals across Canada, including The Calgary Jazz Festival, The Medicine Hat Jazz Festival, The Quebec Jazz Festival, Upstairs Jazz and Diese Onze in Montreal, The Jack Singer, The Ironwood Stage and National Music Centre in Calgary. Deanne has also headlined jazz festivals in France and Mongolia. She has shared the stage with jazz greats, including Larry Koonse, Bryan Lynch, Tommy Banks, Guido Basso, Jens Lindemann, Marvin Stamm and Al Kay. Deanne received a full-page feature in Downbeat magazine and is a featured artist on ICI Musique (CBC Quebec). Deanne was a 2019 YYC Music Award nominee for "Female Artist of the Year" and a 2020 nominee for "Jazz Recording of the Year" for the YYC Music Awards. As well as leading her own groups, she is also a featured vocal performer with Le Cirque de la Nuit and Prime Time Big Band. Deanne has released many singles, and most recently, her 6th full-length album in April, "The Alberta Lounge," which was inspired by Canadian legend Oscar Peterson.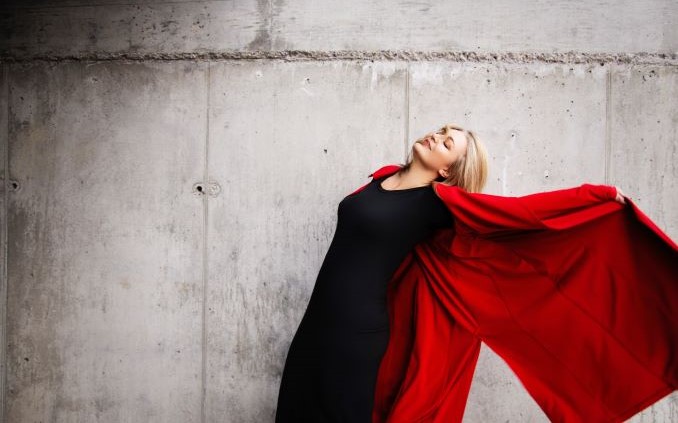 Name:
Deanne Matley
Genre:
Jazz
Founded:
2012
# of Albums:
6
Latest Album:
The Alberta Lounge (April 2022)
Latest Single:
September (Sept 2022)
Latest Video:
Favourite musician growing up:
Oasis
Favourite musician now:
Florence + The Machine
Guilty pleasure song:
Moves Like Jagger by Maroon 5
Live show ritual:
Chewing watermelon gum to get the throat all lubed before showtime
Favourite local musician:
Ranee Lee
EP or LP?
Singles
Early bird or night owl?
Night Owl
Road or studio?
Studio
Any shows or albums coming up?
New Single – Golden Earrings – The Jon Delirious Remix (Just Released)
Where can we follow you?
Website | Facebook | Instagram | TikTok | Twitter | YouTube | Apple Music | Spotify
***
Rapid Fire Montréal Qs
Favourite local restaurant:
"Le Jardin De Panos" – Staple Bring Your Own Wine
Favourite street in your city:
"Wellington Street" in Verdun! It has everything you need and in the summer it becomes the "Pedestrian Well" which makes it even more vibey. It was also just named coolest street in the world!
Favourite park in your city:
"Parc Angrignon" It is a vast, glorious park with many trees and open space. It has an incredible bike path along the lake and many options for sitting and having a picnic. There are spots for BBQs with your friends, a community garden, a dog park, and free public washrooms. Free parking and the metro station are available, so it's easy to get to.
Favourite music venue in your city:
Upstairs Jazz Club
Favourite music store in your city:
Studio Economik