With several nominations at the ADISQ Awards and Prix Opus, having already won a number of accolades including "Trad Album of the Year" at the 2020 GAMIQ Awards, "Discovery of the Year" at the 2019 Prix Opus and the 2018, "Audience Award" at the Prix Festif and several international tour upcoming, É.T.É, the group led by Elisabeth Moquin, Thierry Clouette and Elisabeth Giroux has the wind in their sails. It was during a Trad music jam session in Montreal that the three acolytes decided to get together to create a new repertoire. Hailing from different musical backgrounds spanning classical, jazz, and trad music, they combined their different influences to make Quebecois trad with a unique sound and in their image: modern and dynamic, but also full of finesse and subtlety.
Although their lyrics are all taken from traditional repertoire, the majority of the instrumentation and the arrangements are original compositions that reflect the variety of styles they master. Recently, É.T.É unveiled "La Piétineuse" and released the singles "Belle Emilie" and the "L'Étoile du Nord" live session. These three tracks will be released on their forthcoming album entitled Sur ces eaux.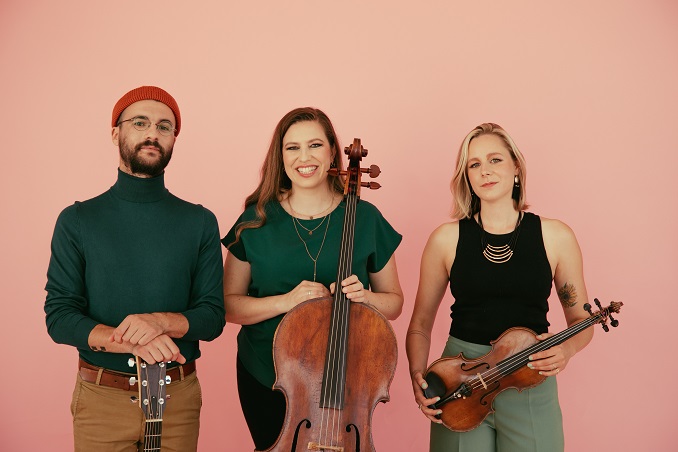 Name:
É.T.É
Genre:
Trad
Founded:
2015
# of Albums:
3
Latest Album:
Sur ces eaux
Latest Single:
Belle Émilie
Latest Video:
Favourite musician growing up:
I think it is Porcupine Tree
Favourite musician now:
I will go with Tunng
Guilty pleasure song:
Tik Tok – Kesha 🙂
Live show ritual:
Rapping the chorus of a song from our first album
Favourite local musician:
There are a lot but my favourite is Mon Doux Saigneur
EP or LP?
LP
Early bird or night owl?
It depends when the soundcheck is the next day 😉
Road or studio?
50-50 is the perfect balance
Any shows or albums coming up?
New album "Sur ces eaux"
Where can we follow you?
Facebook | Instagram | Website
***
Rapid Fire Montréal Qs
Favourite local restaurant:
Umami for their delicious vegan ramen.
Favourite street in your city:
St-Viateur for its location between Le plateau et Outremont and its cafés.
Favourite park in your city:
Jarry, I feel calm there.
Favourite music venue in your city:
Quai des brumes
Favourite music store in your city:
L'Oblique