From Nashville's legendary Bluebird Cafe to the Festival Country de Lotbinière in Quebec, Justine Blanchet is bringing her own brand of sophistication, fearlessness, and culture to the country music world.
Drawn to country music for its lyrics and history, Justine grew up in the Montreal area but visited Nashville at 14 and returned within 2 years to play at the Bluebird Cafe with dreams of relocating there.
Over the course of 8 single releases, Justine has earned over 300,000 Spotify streams (including over 175K for 2019's "Strong") and reached the #4 spot on CBC Country/Sirius XM for 2021's "Get Out of the Mud".
Now splitting her time between Montreal and Nashville, Justine has joined forces with CCMA award-winning producer Danick Dupelle for her newest single, "Hard to Love", which will set the tone for her debut EP in 2023 – another significant stride towards reaching her initial country music ambitions.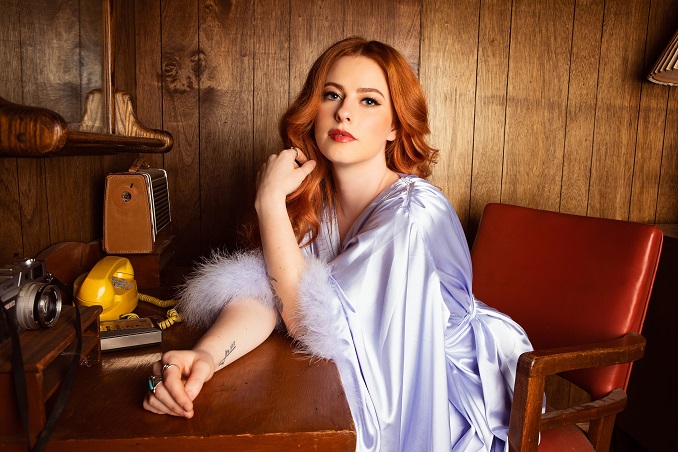 Name:
My name is Justine Blanchet. Thank you so much for having me on here!
Genre:
I sing and write mainly in the style of country music. I love all genres though.
Founded:
I started singing at a very young age but began taking classes at the age of 12. I started releasing singles at 16 years old.
# of Albums:
I don't have any albums out yet, but there is an Ep coming in Spring 2023.
Latest Album:
Don't have one yet!
Latest Single:
"Hard to Love" is the latest single that I've released. It dropped in August on all digital streaming platforms and Canadian country radio.
Latest Video:
Favourite musician growing up:
I had a lot of favourites but Lady A made a big impression on me.
Favourite musician now:
Still have many more favourites now, but I really love Thomas Rhett.
Guilty pleasure song:
Jacob Lee "I Belong to You"
Live show ritual:
Most of the time, I listen to my mom telling me to not forget stuff when I walk on stage, but usually, I'll just run through the setlist in my head or just sing a random song to calm my nerves.
Favourite local musician:
It is definitely Matt Lang. We got to perform together a few years back on Canada Day!
EP or LP?
I love me an LP that I can play on my record player!
Early bird or night owl?
Definitely an early bird! I like to wake up early and get my work done so I can enjoy what's left of the afternoon.
Road or studio?
Love the studio! It's a lot of work but at least I don't have to worry about when the next bathroom stop is!
Where can we follow you?
Facebook | Instagram | TikTok | Twitter | Spotify | Youtube
***
Rapid Fire Montréal Qs
Favourite local restaurant:
Lola Rosa Milton (Mexican food) it's near downtown and has great tacos!
Favourite street in your city:
St-Paul Street in Old Montreal because it has historic buildings and cobblestone streets.
Favourite park in your city:
Park La Fontaine is so pretty during the summer! It has trails and even ponds to paddleboat.
Favourite music venue in your city:
The Corona Theatre is a great venue for live shows.
Favourite music store in your city:
My go-to is Nantel Musique right next to Little Italy.