Juvenile Jury is an alternative rock band bred in the suburbs of Montreal. Their unique sound is both primal and powerful, leading to a fierce, energetic, kaleidoscopic experience. The band's sound oozes with the bubbling energy of the '90s alternative rock scene while imbuing that sound with the breath of youth. The band is composed of Mark Turcotte on lead vocals and bass, Sacha Rose on lead guitar, and Jordann Daoust on drums. Montreal-based alt-rock band Juvenile Jury capture that anxious, itchy introspection in their new yet very vintage-sounding single "Third Eye" from their new EP Proven Guilty.
With grungy guitars, loud-quiet dynamics, and subtle harmonies, "Third Eye" takes some of the most recognizable, intoxicating elements of '90s grunge and alternative and reimagines it all for a contemporary audience.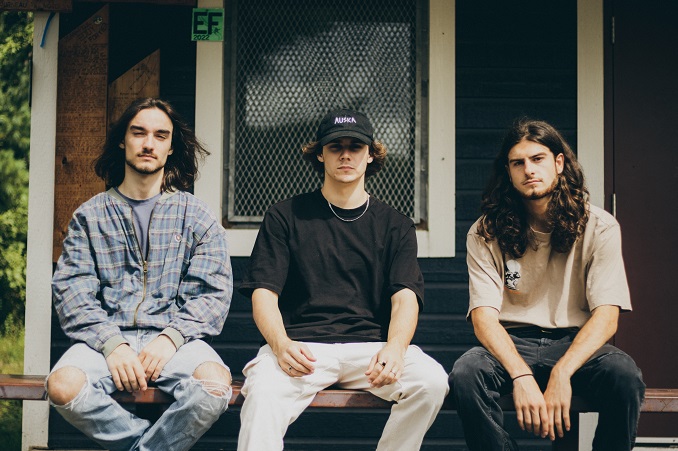 Name:
The band is called Juvenile Jury and the members are Mark Turcotte (Lead singer and bass player), Sacha Rose (Lead Guitarist) and Jordann Daoust (Drummer)
Genre:
I'd say that we are primarily a rock band, but you can tie us to the grunge sound or even alternative music.
Founded:
The band was founded while we were still all in Highschool so I'd say probably around 2018. At least we started writing our first "songs" then.
# of Albums:
We have an EP out. It just was released. We love it. It's called "Proven Guilty"
Latest Album:
"Proven Guilty" – EP
Latest Single:
"Noises"
Latest Video:
Favourite musician growing up:
Hard one. A classic would be Led Zeppelin.
Favourite musician now:
Another hard one. We're listening to so much stuff nowadays. I'm digging OVLOV at the moment, but we also love Cleopatrick, Arctic Monkeys and Queens of the Stone Age.
Guilty pleasure song:
Hmm. I have always loved "Somebody That I Used to Know" by Gotye. I don't know why It should be my guilty pleasure song, but why not.
Live show ritual:
We don't have a live show ritual apart from the fact that we always dap each other up before the show. Although we did play "Enter Sandman" before each show for a while. I have no idea why we did that but we did.
Favourite local musician:
There is this guy that goes by the name of ALIAS. He just put out an album called "Jozef" and it is AMAZING. You should go and check him out.
EP or LP?
I'd have to say EP for now because we have just put one out. It forces you to put your best songs out and limit yourself because it can only be 6 songs or less. Other than that reason LP. Come on. An album is great.
Early bird or night owl?
Without a doubt, night owl.
Road or studio?
Although we haven't done a proper "tour", I'd say that at the moment we love the studio. Such magic things happen in a studio. It's where your ideas come to life. It's just so satisfying.
Any shows or albums coming up? 
We have an EP that just came out. It's called "Proven Guilty" and you should go check it out. Available EVERYWHERE online.
Where can we follow you?
We're most active on Instagram, but we are on most of the platforms (Facebook, Twitter, Tik Tok).
***
Rapid Fire Montréal Qs
Favourite local restaurant:
My parents have a restaurant near where we live. Me (Sacha) and Jordann work there so I'd have to say that. It's called "Campagna". If you are ever on the north shore of Montreal, you should stop by. Chances are I'll probably be serving you.
Favourite street in your city:
Saint-Denis street in Montreal is awesome. There is so much stuff happening. Plus, we played our first Montreal show at Quai des Brumes on that street, so it holds sentimental value for us.
Favourite park in your city:
Hmm. A classic would be Parc du Mont-Royal which is pretty awesome. Parc Jarry is cool too.
Favourite music venue in your city:
Quai des Brumes is cool because it's small and intimate. But there are so many, it's hard to say. We've gone to see a show at Le Ritz PDB recently. That was pretty fun.
Favourite music store in your city:
Steve's music. Without a doubt. Although, on the north shore of Montreal there's a little shop called "La Boite Musicale". It's great. The owner "Bob" is awesome. You should go and say hi.