On a quest to fearlessly create and perform genuine rock 'n' roll, Midnight Miles is a 5-piece original band from Montréal, Quebec. With a steady pulse and driving backbeat, their music is intended to inspire and liberate anyone who's giving them a listen.
"Authentic, back-to-roots, road trip rock 'n' roll"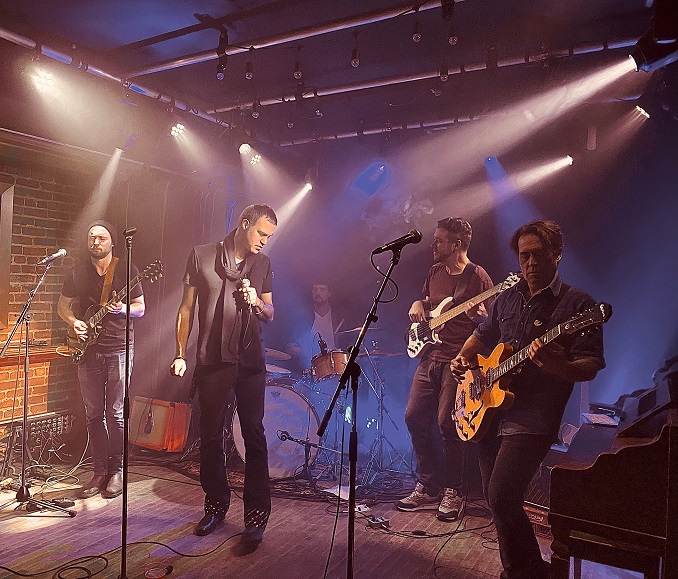 Name:
Midnight Miles
Genre:
Blues-based rock 'n' roll
Founded:
2022
# of Albums:
We are currently working on our first full-length album.
Latest Album:
Our debut EP entitled Steal Away is slated for release this spring, on May 18.
Latest Single:
Coming On
Latest Video
Favourite musician growing up:
Too many to count, but would have to be a close tie between Jimi Hendrix and Led Zeppelin.
Favourite musician now:
Impossible to narrow it down, but recently caught The Black Crowes on their "Shake your money maker" 30 th Anniversary tour and it was incredible.
Guilty pleasure song:
Who's Crying Now – Journey
Live show ritual:
If it's possible, to find a moment of quiet, have a glass of scotch, and just focus on my breathing.
Favourite local musician:
Rob Lutes
EP or LP?
LP
Early bird or night owl?
Early bird. I live in the country and have always loved the serenity and freshness of the early mornings, especially out in nature.
Road or studio?
Both. While playing live and connecting with people is a privilege, getting creative and producing tunes in the studio together is a process our band cherishes dearly.
Any shows or albums coming up?
Our debut EP Steal Away just came out. We're going to be performing at the Tremblant Blues Festival on Friday, July 14 at 5 PM!
Where can we follow you?
Instagram | Facebook | Spotify | YouTube
***
Rapid Fire Montreal Questions
Favourite local restaurant:
Modavie. Went recently and it's got a great menu, charming ambiance and live music as well.
Favourite street in your city:
Saint Laurent Blvd. (Nicknamed "The Main"). This street is packed with cultural history. There are loads of art galleries, shops (some old, some new), theatres, venues, restaurants and cafés. Any time – day or night, it's constantly bustling with all sorts of intriguing people. It's even host to numerous major street festivals throughout the year.
Favourite park in your city:
La Fontaine Park. The park is over 100 years old and is surrounded by mature trees. It's a great spot to have a picnic or just hang out along the two linked ponds. It even has an open-air venue.
Favourite music venue in your city:
Metropolis (Now called MTELUS). It's a cool space with a capacity of up to 2300. Great lighting, easily accessible, great sound, good layout and so on.
Favourite music store in your city:
Jimi's Music – 5776 Sherbrooke West. This is a neighbourhood place that's been taking care of business for a long time. They've contributed a lot over the years to the local music community and continue to do so – day in and day out.