Tiny, illuminating sounds that burst into melody, Mirror Mirror is baroque chamber pop with a twist. Lisa Iwanycki sings about our troubled future while a mini-orchestra of glass instruments, violins, and a midnight choir creates delicate flourishes around her.
Lisa was born and raised in Montreal and has been touring with Patrick Watson, The Barr Brothers, Little Scream and Matt Holubowski.
After getting her degree in music and literature, Lisa formed feminist punk-pop band Creature (Universal, Bonsound) who went on to tour the world with its dance pop appeal. She then formed the cinematic, moody synth pop of Blood and Glass (Simone Records) whose songs found themselves on the soundtrack of the popular TV series 'Avant le Crash,' won her prestigious awards in NYC, and allowed her to tour Europe numerous times.
Lisa now welcomes you into a world of unplugged, precious beauty with the orchestral folk of Mirror Mirror. Signed to Sunset Hill Music, her first single was released on January 13, 2023. The song, "Imaginary Friend," is about the loss of true friendships as we move into a world where meeting online prevails over meeting in person. As Lisa sings, she is asking someone… anyone… to meet her face to face, hand in hand, eye to eye, and heart to heart.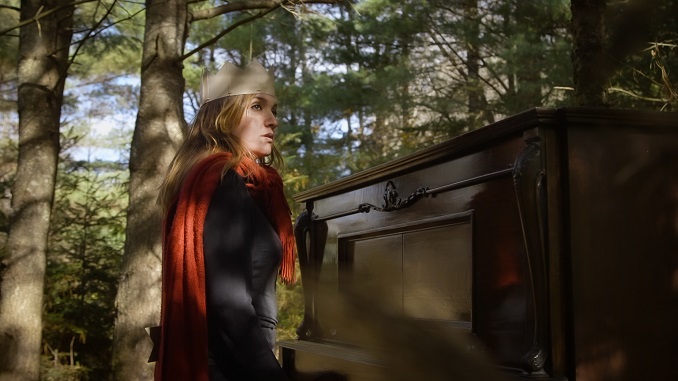 Name:
Mirror Mirror
Genre:
Orchestral Folk
Founded:
2023
# of Albums:
Debut EP release March 3rd, 2023
Latest Album:
Mini album called Imaginary Friend
Latest Single:
Imaginary Friend
Latest Video:
Favourite musician growing up:
Bjork, Cindy Lauper, J.S. Bach
Favourite musician now:
Steve Reich, Caroline Shaw, Kaitlyn Aurelia Smith
Guilty pleasure song:
Drip by Saudi. I discovered Saudi by listening to Kendrick Lamar. The lyrics are hilarious but the song is magic and I can't imagine it any other way.
Live show ritual:
A huge group hug before going on stage, and always, always find moments to look at each other while playing. Keep it dangerous. Surprise each other.
Favourite local musician:
Little Scream, Matt Holubowski, Klo Pelgag, Ingrid St-Pierre, Ian Kelly, The Barr Brothers
EP or LP?
Double Album!!
Early bird or night owl?
My creative time is 4 am. I often wake up in the middle of the night with an idea, force myself out of bed, lay it down, and fall back asleep. Andy Warhol took sleeping pills to invoke the dream state and inspire his art. David Bowie said: Dreams are more important than we like to think.
Road or studio?
I love the road but my happiest place is when I'm creating.
Any shows or albums coming up?
Stay tuned for a series of secret concerts in alternative spaces with limited ticket sales this spring.
Where can we follow you?
Instagram | Facebook | Soundcloud
***
Rapid Fire Montréal Qs
What is your favourite local restaurant?
Pumpui. Delicious. Epic. Thai Food.
What is your favourite street in your city and why?
All the back alleys in Montreal. They are my little getaways. I love experiencing the back of every house, seeing kitty cats in their world, and I love walking under bent treetops as I step on cracked, crooked pavement.
What is your favourite park in your city and why?
Jarry park. It's got it all… from ducks in the pond to large rocks you can meditate on, rolling hills, pine trees… but the best part is the people: Clusters of families and friends meet and throw parties from different communities and cultural backgrounds. You get a sense of the diversity in this city, but also… each party gives you the feeling you are welcome to join in and make friends, no matter where you come from.
What is your favourite music venue in your city?
Ursa. Martha Wainwright created a haven for artists when we needed it most. I feel like when I walk into Ursa, I'm getting a huge hug. Thank you Martha.
What is your favourite music store in your city?
Death by Vinyl. You have to dig but you are always sure to walk out with something really special. Their albums are in great condition and the staff are super friendly.