Tarbox is a Montreal-based alternative rock band that has been gaining momentum in the underground music scene. Their sound is a unique blend of various genres, including grunge, post-hardcore, shoegaze, emo, and post-punk, creating an infectious and dynamic style that has captivated audiences.
With the release of their debut album "Saviors," Tarbox established themselves as a rising star. The album was well-received, and its single "White Lie" garnered significant attention, earning the distinction of being featured on iHeart's CHOM 97.7 as the "Big Shiny New Song of The Week."
The band's dedication to their craft and commitment to a long-lasting presence in the music industry is evident in their creative process. To ensure they have enough material to release regularly for the next two years, Tarbox isolated themselves in a wood cabin for three weeks to record their upcoming material.
Their hard work and dedication have paid off, as Tarbox has performed over 150 shows across Canada, including multiple performances at Montreal's Club Soda and two sold-out album release shows at Petit Campus in September 2021. With a strong creative and business team in place, including management, booking, and promotion, the band is poised to take their music to the next level.
Their next release, which will be distributed via Artifice (Warner Music Group), is highly anticipated and promises to showcase Tarbox's evolving sound and their continued growth as a band. With their catchy and dynamic compositions, Tarbox is undoubtedly a rising star in the alternative rock scene.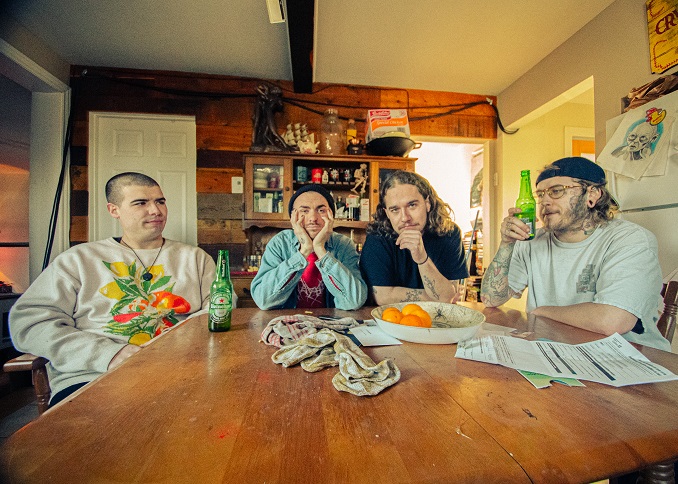 Name:
Tony, singer of Tarbox
Genre:
Alt Rock/Grunge
# of Albums:
1 album & 1 EP
Latest Album:
Monochrome Dream EP (rel. May 2023)
Latest Single:
"34"
Latest Video:
Favourite musician growing up:
Definitely Dave Grohl!
Favourite musician now:
My heart still wants to say Dave Grohl, but I'm more of an old-school Foo Fighters fan. So my favourite musician currently releasing music that I can't stop listening to would be Ian Shelton from Militarie Gun. Great singer, great lyrics and even an awesome drummer!
Guilty pleasure song:
Take A Look Around by Limp Bizkit… I was obsessed with this song when Mission Impossible 2 came out. I had the movie's music CD back in 2000 when this was a thing. Still can't keep myself from getting overhyped when the snare hits right before the last breakdown of the song. If you know you know.
Live show ritual:
Keeping calm, don't talk too much, drink plenty of water and maybe some beer. Warm up my voice, and make sure that my guitars are all tuned up and ready to go. Last but not least, write a setlist in a hurry because we forgot to do it earlier!
Favourite local musician:
A band called Spite House. Really good band. They have a lot of Fiddlehead and Title Fight in their sound which I love. I wish there would be more bands like this in Montreal.
EP or LP?
I like both honestly. If I had to choose and had unlimited budget, I would go for the LP for sure. But in a world where we have to be releasing lots of music fast, the EP is more convenient.
Early bird or night owl?
Definitely a night owl! I wish I could enjoy mornings but I just don't.
Road or studio?
Man, I do love the road! Discovering new places and meeting people, coming back with so many stories to tell. Studio is fun, but to me, it's more stressful. Always in a state of overthinking, making sure that what we're doing is the best work we've ever done. It gets exhausting, but no matter what I'm always super excited when we're going in the studio!
Any shows or albums coming up?
We have a small Ontario run coming up in August. All the dates are up on our Instagram or website. And of course our latest EP Monochrome Dream. Go give it a listen and come to one of our shows. It's always a great time.
Where can we follow you? 
***
Rapid Fire Local Questions:
What is your favourite local restaurant?
Pho Bang New York in Montreal's Chinatown
What is your favourite street in your city and why?
St-Denis street. Because that's where the music scene is. You have the Turbo Haus, l'Escogriffe, Quai des Brumes and so many nice bars and food joints in a walking distance.
What is your favourite park in your city and why?
Park Lafontaine. Huge park, lots of space to sit and hang. Sometimes there are people playing music. It's a nice place to have a drink with friends.
What is your favourite music venue in your city?
Definitely Club Soda. It's a big venue, sounds awesome, it's always a party. But if you want a more intimate venue, I love Turbo Haus! They always host really nice underground bands. It's the place where I discovered many artists (including Spite House as mentioned above)!
What is your favourite music store in your city?
My favourite music store closed down this year, it was called Kitt's Music Store in Saint-Leonard, Montreal. The owner was an old musician called Tony, sweetest music store owner ever!! What was exciting about his store was that he was selling mostly used gear. So you never knew what rarities you were about to find. I bought all kinds of stuff there from a 50$ digitech chorus pedals to a 1983 Gibson Lespaul!