Monsieur Chef is one of Montreal's top-rated private chefs and he is here to redefine the private chef experience by creating a new era of gourmet fusion food that is made and served wherever you are. No palette will stay unsatisfied! He shared this week's recipe for Cajun shrimp & Latin fusion salad.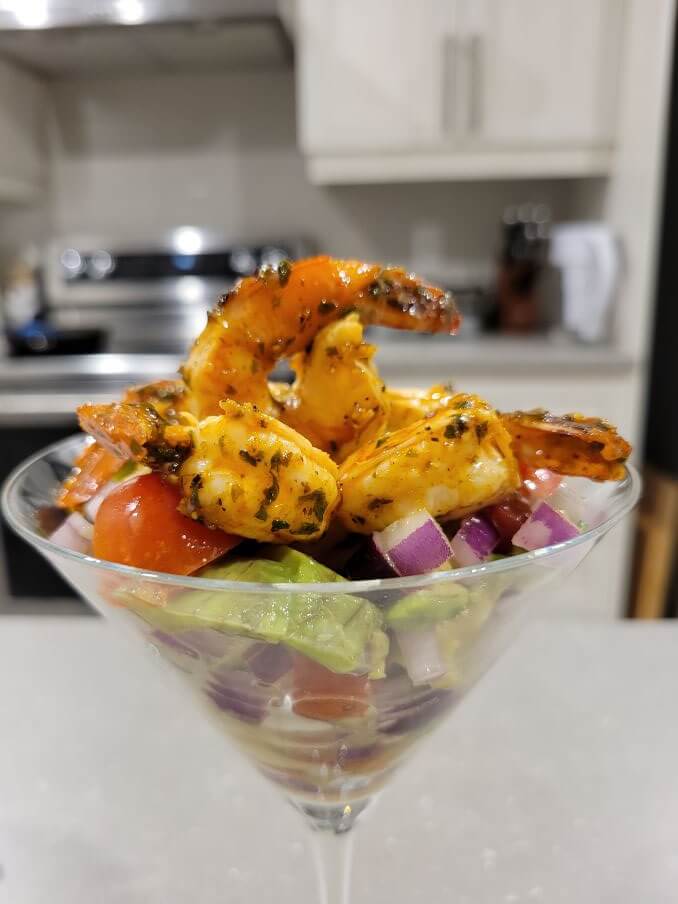 Cajun shrimp & Latin fusion salad
INGREDIENTS:
–  16 big shrimps
– 1 orange
– 3 tbsp cajun spice
– 1 tbsp chilli powder
– 1/2 tsp pink salt
– 1 tbsp avocado oil
– 1 tsp maple syrup
– 1 tbsp dried or fresh parsley
DIRECTIONS:
1. Clean your shrimps if the fish market didn't already do it for you. Place in a large bowl.
2. In a small bowl, mix the juice of 1 orange, cajun spice, chilli powder, pink salt, avocado oil, maple syrup, and parsley. Pour over the shrimp and mix but leave some of the marination aside.
3. Cover and refrigerate for at least 5 to 6 hours.
4. Preheat grill to medium-high heat.
5. Thread the shrimps onto skewers.
6. Add skewers to the grill and cook for 2 minutes on each side or until the shrimp turns orange & re-apply the leftover marination that you left on the side
LATIN FUSION SALAD
INGREDIENTS:
– 2 Avocados
– 1/2 Purple Onion
– 1/2 Big Cucumber
– 20 Cherry Tomatoes (sweet if possible)
– 4 Limes
– Fresh basil
– 1 Tbsp Olive oil or Avocado oil
– Salt & pepper to your taste
DIRECTIONS:
1. Chop Tomatoes, Cucumbers, Red onions, Cucumber & Avocado in medium size cubes & put them in a big bowl
2. Squeeze the limes
3. Add the oil
4. To finish apply the salt & pepper, fresh basil to your taste
Check the video!
Follow Monsieur Chef: